The Red Sox's 1975 World Series match-up against the Cincinnati Reds captivated the nation's attention and revived baseball's lagging popularity. Three decades later, this book remembers the 37 players and 6 coaches that put on a Red Sox uniform in 1975.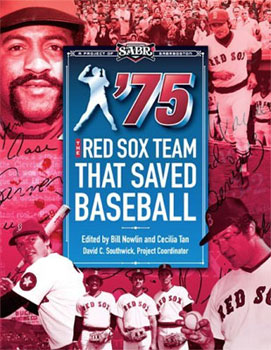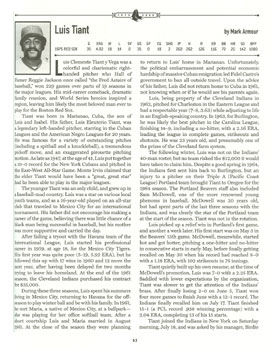 Shipping: USPS Media
To buy with all major credit cards

In this collection of biographies you will read about the stars, regulars, journeymen and "cup of coffee" players that carried the Red Sox to the '75 pennant. From the one at-bat logged by Buddy Hunter to the heroics of Carlton Fisk, the entire lives of these Boston heroes are detailed from childhood to their post playing days careers.

Over 30 writers, researchers, and baseball enthusiasts from the Society for American Baseball Research (SABR) collaborated on this book to present the biographies of the men responsible for one of the greatest seasons in Boston's baseball history. With material gained from exclusive player interviews and the archives of the National Baseball Hall of Fame, this book contains many stories that have never been heard before.

Paperback, 158 pages includes player photographs and stats. Published November, 2005.
---

"The biographies cover more than just the payer's careers, but also their lives. This is something that hasn't been widely done, especially with players who aren't as well known. Probably the most unique thing is that every bio is treated with the same level of thoughtfulness -- Kim Andrew and Tim McCarver get the same number of pages and detail as Yaz and Rice. If they picked up a bat or ball that season, even once or twice, they're in there."
- David Southwick, book project coordinator (redsoxnation.net interview)



Featured 1975 Red Sox Players and Coaches
The Lineup
Rick Burleson
Cecil Cooper
Denny Doyle
Dwight Evans
Carlton Fisk
Doug Griffin
Fred Lynn
Rico Petrocelli
Jim Rice
Carl Yastrzemski

The Bench
Kim Andrew
Juan Beniquez
Tim Blackwell
Bernie Carbo
Tony Conigliaro
Steve Dillard
Bob Heise
Butch Hobson
Buddy Hunter
Deron Johnson
Dick McAuliffe
Tim McCarver
Andy Merchant
Rick Miller
Bob Montgomery

The Rotation
Reggie Cleveland
Bill Lee
Roger Moret
Dick Pole
Luis Tiant
Rick Wise


The Bullpen
Steve Barr
Jim Burton
Dick Drago
Rick Kreuger
Diego Segui
Jim Willoughby


The Coaches
Don Bryant
Darrell Johnson
Johnny Pesky
Eddie Popowski
Stan Williams
Don Zimmer