Carlton Fisk
Excerpt and picture from the book Red Sox Legends
The Red Sox headed into Boston on the brink of elimination for Game 6 of the 1975 World Series; then the rains came.
The World Series was postponed for three days due to the downpours. For Sox fans, however, Game 6 was worth the wait, as it produced one of the most magical moments in any World Series - Carlton Fisk's game-winning home run in the 12th inning.
"It was very late," recalled Fisk. "I remember being in the on deck circle in the 12th with Fred Lynn before going up to bat. I had a strange but nice feeling and I said to him, 'Freddie, I feel good. I'm gonna hit one off the wall. Drive me in.' Freddie said 'Sounds good to me.'"
With that, Fisk stepped to the plate and drilled a 1-0 fastball that was down and in. "I knew it had the distance and the height. I just wasn't sure it was going to stay fair," Fisk recalled.
With a few waves of his arms into fair territory and the clang of the ball hitting the left field foul pole, the Red Sox won probably the most famous World Series game in baseball history.
Fisk held the record for most games caught in a Red Sox uniform until 2006, when Jason Varitek broke the record. He won a Rawlings Gold Glove in 1972 when he was Rookie of the Year, and was a seven-time all-star. The left field foul pole is named after him.
- Excerpt courtesy of Arcadia Publishing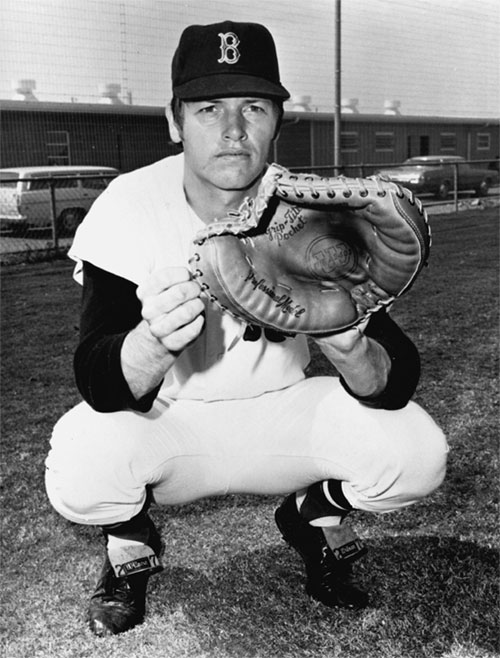 Carlton Fisk
is shown here, posed in his most famous position
Photo from the Red Sox Archives, c. 1975
---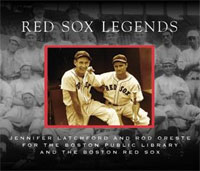 Arcadia Publishing (2007)
128 pages, 58 photos
Red Sox Legends

Through a combination of player interviews and historical narrative, Red Sox Legends is a tribute to the great players and moments in team history and each story is accompanied by a vintage photograph from the Boston Public Library's unparalleled collection of historical Red Sox images.

Tracing Boston's players and teams from 1903 to 1990 through a series of rare images, this book truly brings Red Sox history to life. [More information]

Buy Red Sox Legends at Amazon.com
---