Since 1965 the CITGO sign has hovered behind Fenway Park's Green Monster, clearly visible to Red Sox fans and television audiences worldwide. The sign's pulsing red, blue and white neon are visible for miles around Boston, and now one of the city's most famous landmarks can be yours!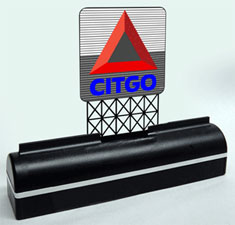 The Citgo Display Sign is a patented replica of the original sign in Kenmore Square. It functions just like the real thing, complete with flashing lights, a soft neon-like glow for the letters, and an illuminated background.
The Citgo sign rests on a black base that won't scratch surfaces and has the ability to animate itself in 45 neon patterns in addition to the pattern it's famous for.
The sign is powered by 3 AA batteries (not included) and slides into its display base in seconds. All you have to do to use it is flip the on/off switch in the back and then your Citgo sign will mesmerize those in your house the same way it does fans at Fenway.
Shipping: USPS First-Class
To pay with any major credit card

Citgo Animated Neon Sign
Size of sign in base: 6¼" W x 1½" D x 5½" H
Actual sign is 3.75" high and just .01" thick
Sign can animate in 46 different chase patterns programmed into its base by the push of a button
Makes no discernable noise and has a very long lifespan (700-1,000 hours)
Sign and display weigh 9 ounces
Patented manufacturing process uses space age materials
Batteries not included
Can be used with a 4.5V AC adapter to eliminate the need for batteries
Officially licensed by Citgo
CITGO® is a registered trademark of CITGO Petroleum Corporation used under license