The plight of a Red Sox fan during the offseason reaches its zenith on the first Sunday of January. And only one thing is truly at stake on the first day that the Sox allow fans to purchase tickets: the pursuit of seats against the Yankees.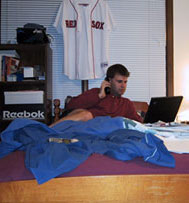 My day, and ordeal, began at approximately 12:02 p.m., some two minutes after phone lines were opened to the automated Red Sox ticket line. For the team that resides in historic Fenway Park, options such as Ticketmaster don't exist, and the Sox don't put tickets on sale online until ten days later. Armed with a cell phone, my Red Sox Mastercard, and the previous Sunday's Boston Globe to pass the time, I began my quest. My goal: One ticket for the Red Sox-Yankees games on Sunday, April 15th and Monday, April 16th, which is also the annual 11:05 a.m. Patriots Day game. Incredibly sore from my first attempt at paintball the previous day, I figured not much could get me out of the house anyway.
Knowing that nothing comes easy to fans of the Old Towne team, it shouldn't have surprised me by the number of near-misses that I would experience in my pursuit. My first called produced the first busy signal of the day. Subsequent redials would offer up a recorded response saying the line was jammed. But if Dan Duquette can work the phones enough to pitch over $160-million to one man surely I could hang in there long enough to give my $50 to watch a piece of the dream. Much like a 162-game season, a series of sporadic calls were made throughout the remainder of the day. But as day turned into night, and heading into what seemed to be that 162nd game, if not my 162nd phone call, I never did hear Pedro's voice wishing to see me soon at friendly Fenway, and Sunday turned into Monday.
But just as I was reaching my Lowe point — a reference to the two Red Sox game I saw at Fenway last June, both lost after taking leads into the ninth — I miraculously made it through on what was to be my last call of the evening, shortly after midnight, as I climbed into bed. With success at last within my grasp, I seemingly had procured the tickets that I wanted. But within seconds of receiving my confirmation number for my transaction, my cell phone, like a starting pitcher finally running out of gas in the ninth, let out a beep to let me know the internal battery was used up. And with that the phone powered off. Compounding the problem, no other phone in my house worked on this fateful day, for reasons that remain unbeknownst to me, and with no phone up and running in the bullpen, I sent my cell to the charger, hoping to give it enough warm-up pitches to muster another chance.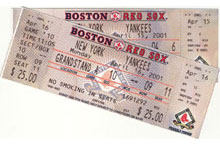 That chance would come thirty minutes later. Pedro's voice welcomed me back and I went through the procedure of selecting my games and tickets. Things were going smoothly until I decided to switch tickets for one of the games, which I did by buying three tickets, then deleting one of them. I deleted order #3 as fate would dictate. Phone keypad #3 on my cell phone is right below the end key. I did not hit the #3 key, my finger missed, and naturally hit "end." But this is not the 'end' of my story. The Red Sox, I reckon, will win a championship one day, but I was going to get my tickets on this night. Knowing my phone battery was low and that Saturday's game with the Yanks had already sold out, my only option was to hang in there, or at least not hang up this time, and hope for the best. As the saying goes, the third time was the charm, and before the lights went out and the phone could die, at 12:58 a.m., I had secured myself a seat in center field for Sunday's game, and a grandstand seat for Monday. Total cost: $51.