My Red Sox Cap
Kevin Nolan - April 25, 2005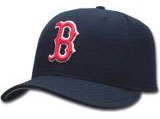 Despite being a die-hard Red Sox fan (I was born and raised in Attleboro, MA), I have never worn a Red Sox cap until August of 2004.
For some reason since birth, I have always hated wearing caps, not just a baseball cap, but any kind. Even though my family, including three children (all of whom are big Red Sox fans), always begged me to buy a Red Sox cap every year, I always said "no," because of my dislike for caps.
However, last August was to be different. Like in the past I parked at my favorite spot by the Citgo sign to attend a Red Sox/Yankees game, one of the hundreds of games at Fenway that I have attended since my infancy.
While walking down beautiful Yawkey Way, my son, Keith, pulled me to a Red Sox souvenir store and repeated the same request that my children had made: "Please buy a beautiful blue cap with a bright red B."
I thought to myself, after 59 years of roller coaster emotions, including pain, disappointments, broken hearts, and my biggest pet peeve: hearing that same old damn quote, "Wait 'till next year," I finally decided to buy a cap hoping it would help break the Curse of the Bambino after 86 fruitless years.
Needless to say, by purchasing this cap, I feel that I've contributed to the magic that helped the Red Sox win the World Series Championship!
I have to admit that during the ALCS against the Yankees, and the World Series games, I acted like a 10-year old child by screaming, jumping and even closing my eyes on big plays.
I am so proud to be part of this great and memorable team, and to this day I am still wearing this magic cap. This cap is now worth a thousand words, and years from now this cap will be treasured for it's the cap that helped bring a Boston Red Sox World Series Championship to my family and me in our lifetimes.
---
Kevin Nolan retired from the Clarke School after 30 years of teaching the deaf in Northampton, MA, where he also served as a City Councilor. He recently moved to California, where he was able to see the Red Sox World Series trophy at Sonny McLean's.
Other articles by Red Sox fans