Red Sox Nation Members Survive in Distant Lands
Javier E. Najera - Ft. Worth, TX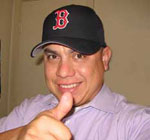 A caller to a local radio sports talk show said, "I saw a bunch of bandwagoners [sic] at Ameriquest Field yesterday. They were all wearing their new [Boston Red Sox] hats they bought the day before and were out cheering for the Red Sox, while I was wearing my faded Rangers t-shirt."
This, of course, was a statement voiced on the air in Arlington, Texas, home of the Texas Rangers. There are a lot of ignorant insinuations made in that statement, the most blatant of them being, "…they just bought the day before…" How he knew that a stranger did in fact buy any garment the day before is a mystery to me. But alas, isn't it kosher to buy a new garment and wear it, especially when that team is defending their World Series title at — of all things — a ballgame in which they are partaking?
The bandwagon stereotype is the hardest thing to overcome when a person voices his preference to a team in any distant land. It's almost as if the Bible itself states that you should root for your home team, whether you like it or not.
Let's take this a step further. What makes a fan? Is it intrinsic that birth or residence makes you a fan of the home team? Isn't being a fan mostly emotional, i.e., your desire to live all the moments — good and bad — with the team?
The Texas Rangers are in a tough spot. Most people that reside here are non-natives. We are migrants, here for reasons of work, school, etc. Ameriquest Field is beautiful and we love to go. The Rangers have a great set of guys, some of which are making an outstanding mark on the game of baseball, but diehard fans? The Rangers don't have many. It's the philosophy of: They lose, but we win.
This area has so many attractions; it's hard to be a fan of only one. At Ameriquest Field, you can find all of the following: fans of baseball as a whole, folks who would be just as happy at a Rangers game or at LaGrave Field to see the independent Fort Worth Cats; the true Ranger fans who have supported the Ranges since their move here from Washington D.C. in 1972; and a great number of folks who would be just as happy here or at the movies. They know it's a baseball game, but they're not really paying attention.
But the diehard fan…
What comes to mind? Green Bay Packers, Oakland Raiders, Florida State Seminoles, Texas A&M Aggies, Dallas Cowboys, Notre Dame Fighting Irish, Pittsburgh Steelers, and of course, the Boston Red Sox.
A defining moment for a team that has this kind of fan base is when that team is a visitor and there are just as many or more fans in the visitor's stadium than the home team.
Case in point: During any Boston/Rangers series, the Boston fans overwhelm the Ranger fans. You cannot imagine it! The Chants ("Let's Go Red Sox!") are loud. Most of the Red Sox fans will be able to identify the players, make comments about the line-up, and express their joy as the Yankees and the Orioles are behind in the standings.
In 2004, I was able to go to several Dallas Cowboys games at Texas Stadium. One was when they played Pittsburgh. That day the yellow and black colors were everywhere! The Steelers got the win and the fans rocked Texas Stadium. For a moment I thought I was at Heinz Field.
So, survival is tough. For Red Sox fans in this area, we had 6 shots to enjoy or beloved team this year. I was able to take advantage of 4. Media in today's world make it fairly simple to keep up with stats and highlights. You don't have to wait for the paper in the morning, just go online and instant updates are readily available.
Many of us have never been to Fenway Pa'k. We can only describe it in conversation from what we read and see in print or on television: The Pesky Pole; the new Fisk Pole; Yawkey Way; Dirty Water on the airwaves; Green Monster seats; Stephen King at many games; and on and on. We don't know what the air smells like when you walk in Fenway on Opening Day, or on a cold day in October. We really don't know what the sounds are like from folks who come and go, for the most part New Englanders buying every single ticket for home games. It would be the strangest thing (for us used to Ameriquest Field being half-empty all the time) to see every seat taken at Fenway and then some.
We can, however, continue to love the Red Sox.
We live and die with them. By whatever means we became members of the Red Sox Nation, once you have become one, you are hooked for life.
It takes a gallant effort from 1,795 miles (from my home to Yawkey Way) in distance, but even then, I know Big Papi spits in his batting glove and rubs his hand before taking a swing. I know Trot stuffs his game cap in his back pocket during his at-bats, so that when he's wearing it in right field, it looks like a group of kids used it to clean chalk boards at school. I know Manny's pants look bigger and bigger, as if they keep using more fabric each game. What do you think about Bronson's "high kick" wind-up, or the amazing knuckle ball from Wake? Is there a catcher that takes more command of a team than Tek? What about Millar opening his stance last year, only to have a 3 home run game? How 'bout the complicated hand and wrist movements of one Nomar Garciaparra (as he got ready in the batters' box) when he was a Red Sox? Can Manny, Papi and Francona ever have enough tobacco in their mouth? How many more times will Foulke break our heart in the 9th?
All the eccentricities and long hair make the current Red Sox bohemians of the sport. Sporting a Red Sox hat or shirt makes for instant conversations with other fans at local sports bars and other public areas. It's a fraternity with a very unique style.
We continue to survive in distant lands. We feel the roar of the Fenway Faithful at home games, if only through audio on television. We battle the antagonism of local skeptics who consider us "bandwagoners."
But we continue and renew our strength in the very well known and coined phrase, "Why not us?"
---
Other articles by Javier Najera
When It's Allowed to Hug a Yankee Fan
Javier E. Najera is a mortician and the director of funeral service operations for a funeral home in North Texas. He writes in his spare time and may be reached at texasmortician@yahoo.com.