Photograph Dispatches from Red Sox Nation
A place where fans can show off their unique pride in the 2004 & 2007 world champions.

Red Sox Way in Iraq
LuAnne Fantasia, US Army Corps of Engineers
Submitted on August 2, 2005
- If you find yourself in a place where the streets have no name, a Red Sox Way sign will come in handy.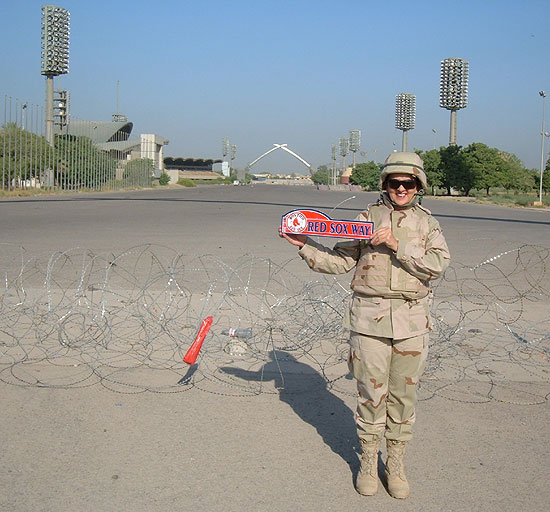 The Soxmobile in Maine
Chris Cronin - Ocean Park, ME
Submitted on September 15, 2005
- This electric 2001 GEM, named Rudolph by its owner, reaches a top speed of 30 mph. The car sat in a dealers lot for 4 years, used only to haul trash and tools, until Chris bought it in August. Now it has one mission: Fenway Park.


Green Monster Replica in Canada
Steve Sweeney, BoSox Brotherhood of Nova Scotia
Submitted on September 23, 2008
- Steve Sweeney of Halifax, Nova Scotia constructed a 16' by 24' replica of the Green Monster at his workplace, the Fleet Maintenance Facility Cape Scott at Canadian Forces Base Halifax. It towers over his shop, where Steve repairs and manufactures material for Canada's Navy and Army.


Fenway's Wall On A Wall in Canada
Vancouver, British Columbia
Submitted on August 10, 2009
- Complete with CITGO sign, Matt Chouinard painted a buddy's room in 2008 in what he calls "Sox style," although he admits "the room is a little intense in the off-season." The jersey in the corner pays homage to British Columbia's own Jason Bay, who has patrolled the real wall in Boston since August 1, 2008.

---
Written dispatches from Red Sox Nation