Red Sox Fans: Recalling First Fenway Visit
Jon Sicotte

I'm originally from Marquette, MI in the Upper Peninsula of Michigan, but now I reside in Saginaw, MI. I am a part-time disc jockey and sports videographer.

I have been a Sox fan for as long as I remember, namely, becoming a fan in 1986, when I was 9. It was the first vivid World Series I can remember (the '84 Tigers mean nothing to me... to my dad's dismay) and since then I've been the odd one for cheering an East Coast team while all my freinds were either Tigers or Brewers fans.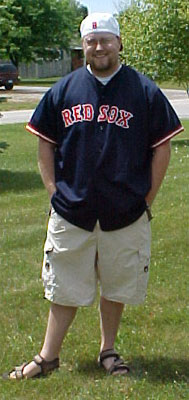 I finally got to Fenway August, 17, 1999. It was the summer before my senior year in college and myself, along with two friends of mine realized this may be our last chance at blowing a lot of money and seeing as many major league games as we could before we had to start our careers.
It was the best idea we ever made.
It was a 16-day, 8-ballparks, 3-hall of fames, dream of a trip as we visited Tiger Stadium, Jacobs' Field, Skydome, Yankee Stadium, Shea, the Vet, Camden Yards... and of course Fenway Park.
We got tickets down behind Pesky's Pole. I remember walking up to the stadium and just taking it all in. By the time we started over to our seats (Sec 6, Box 92, Row RR, seat 2) I was shaking... as we entered the tunnel to go to the RF box, my friend Jason turned to me with total knowledge that I was mesmerized by the whole experencie.
"You ready for this?" he asked.
I could only nod like a small child.
We stepped into the dimming sunlight and I froze... just starting to my left and slowing making my way to the right.
There was the press box, the sunlight gleaming through the 1st base side stands, THE MONSTER... and the Citgo sign... pure joy!
Tears started to swell as I realized that I found out what heaven is going to be like, an August night in the grandest ballpark of all time... Fenway Park.
The A's beat the Sox 12-1 that night, but nothing could kill the pleasure of seeing MY team in MY ballpark that night. Thanks for letting me relive this memory...