When It's Allowed to Hug a Yankees Fan
Javier E. Najera - Ft. Worth, TX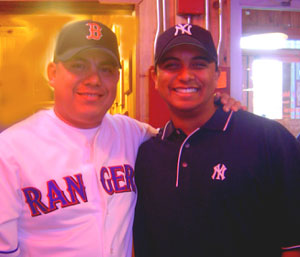 For some reason, every time I see this picture I think of "Al," a character played by Jack Kehler in Fever Pitch. I can hear him telling me, as I forcefully but gluttonously chew the last bite and drink the last beer, "You're having a stroke for hugging that Yankee fan at the door!"
I'm going out on a big limb here by posting, not only the picture, but also writing this piece. Before I am thrown out and stoned to death by my fellow Red Sox Nation members, let me tell you why a Boston cap, a Texas Rangers jersey, and a Yankee fan make for a memorable day at the ballpark.
The Boston cap is a staple in my meager wardrobe, of course. It is one of about a dozen different Sox caps in my collection. The Texas Rangers jersey is a gift from my two daughters. While I am raising them to be good Red Sox fans (both know who Big Papi is and understand the basic principals of "clutch hitting"), the jersey was a gift on a day themed, "Please Our Papi (daddy) Day." They thought it apropos investing in a white Rangers jersey. After all, when the Red Sox are not here, we enjoy watching the Rangers at Ameriquest Field.
Yeah, get to the point where you hug a Yankee fan, right?
Manny Martinez is the guy I am hugging. He is a childhood friend of mine and recent revelations have confirmed the fact he is a Yankee fan all the way. Here's a quote from said Yankee fan:
"I never met my grandfather Tachito. He passed away three months after I was born. He was a Yankee fan. As a Bracero in El Paso during the late 40's, my grandfather and his buddies would listen to the games on an old beat-up radio during their lunch hour. That's how it all started. As destiny would have it, the first Little League team I ever played for was the Socorro Optimist Yankees. I wore pinstripes for the fist time at age 6. As a big baseball fan, I love their history, their consistency, their discipline, and most of all their talent. I don't care that they have the biggest budget. I care less that The Boss is an eccentric egomaniac. My admiration for the Yankees lies within those white lines..."
Given his words, there is every bit of reason to not hug this guy. There is even enough reason to take him out in the alley, and work him over a time or two, forcing reason into his brainwashed cranial cavity, courtesy of the Steinbrenner MBA School for Baseball Chokers.

Well, believe it or not, I have reason to hug this guy – a big, heroic reason. And, to be perfectly honest, when I did get the chance to do so, it was a hug that lasted a few minutes…

Manny Martinez is really Captain Mannuel Martinez of the United States Army. A proud soldier, he graduated from the U.S. Military Academy at West Point, a feat in itself that made our neighborhood clan very proud.

But more than his accolades and accomplishments, Cap. Manny has served a variety of assignments the present conflict in the Middle East has presented. There were brief e-mail exchanges from him while in the "sandbox," which confirmed his survival and personal prognosis for the future, but it was always embossed in the back of our (his friends and family in the States) minds that one day our Manny might come home in a flag-draped casket as so many other soldiers have.

As a mortician, events like that (caskets and flags) are commonplace, but had our Cap. Manny been sent to us in that state it would have been devastating, to say the very least.

Today, Manny is starting a new career in the civilian world as well as a family. He is never too detailed on what his status is in the military world, but I get the feeling that if a few more good men were needed, he'd get a ticket to the sandbox – again. I am lucky, since he lives a short driving distance from me now. We get to hang out like we did when we were kids -- even if he does were Yankee gear.

Friends, it is often said to me by my father that tomorrow we die. The uncertainty of the future is truly the only thing that scares me enough to make sure that I enjoy every moment I get today. This day – the one featured in the picture – was May 6, 2006 in a sports bar near Ameriquest Field. And though the Yankees spanked the Rangers with 10 hits and 6 runs (including a HR from Alex "Hand Slapping" Rodriguez), the fact that it happened -- that Manny was with his family and us -- was well worth the picture.

In that case, it was more than justified to hug this Yankee fan, one of the few I'll be honored to hug anytime.

Thanks Cap. Manny for being one who voluntarily keeps our ballparks safe.
---
Footnotes
Javier is aware that his amateur attempt at "Photo-Shopping" the glare out of the picture above was, well, preposterous.

A Bracero was the name given to those Mexicans who worked picking the lands in the U.S., i.e., cotton, veggies, etc.
---

Javier E. Najera is a mortician and the director of funeral service operations for a funeral home in North Texas. He writes in his spare time and may be reached at texasmortician@yahoo.com.
Other articles by Javier Najera