64 of the game's most knowledgeable fans chronicle one night on the field, in the stands, and behind the scenes at America's oldest ballpark.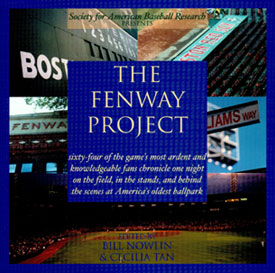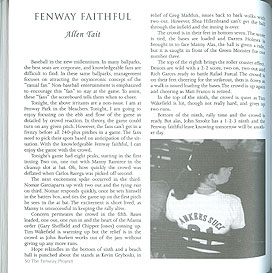 Shipping: USPS Media
To buy with all major credit cards

On June 28, 2002, over 700 members of the Society for American Baseball Research (SABR) descended on Fenway Park for an interleague game between the Red Sox and Atlanta Braves. Sixty-four of these avid baseball fans, historians and statisticians recorded their experiences for this book.

The Fenway Project provides as many perspectives as possible about what occurs over the course of a ballgame played at Fenway Park. Each writer chose a different topic to cover, and the 64 brief, first person accounts give the reader an unbiased collection of all the activities that take place at Fenway, against the backdrop of a particular game on a summer night.

The Red Sox granted the authors special credentials for the game and as a result fans get to read many unique stories, including:

Operating the manual scoreboard inside the Green Monster
What goes on inside the press box and team clubhouses
Why the singing of the National Anthem must be prerecorded
What it's like to be interviewed by NESN's Tom Caron during the game

Accounts of experiencing the game are published from just about every one of Fenway's unique vantage points. One author even focuses on the scene surrounding the ballpark, writing about the vendors, clubs and bars that line Lansdowne Street and Brookline Avenue. As an added bonus, the Braves' days in Boston are discussed and the results of the City Series, played in the spring from 1925-1954, are published.

Paperback, 176 pages with 36 pictures. Published May, 2004.



The Fenway Project Book Topics
Part One: Sox vs Braves History
A Tale of One City: Boston's City Series
Spahn, Sain, and Sibby Get The Last Laugh
Natural Rivals

Part Two: Day of Game Stories
Misery Loves Company
Grand Tour
A Systematic Stroll Toward Fenway Park
The Fenway Experience
Bar Hopping
Fenway Faithful
Talking Heads
A Minnesotan in Fenway Park
Internet Radio
American Anthem
In The Braves Clubhouse
It's Never About the Game
Long Time Passing
Before, During, and After
Fenway Park Experience
View From The Owner's Box
West Coast Viewer
A Marriage Proposal

Expectations
A Night In The SBN Booth
Haibun for Fenway Park
On Not Seeing The Game At Fenway
On Being Interviewed by NESN
View from the Press Box
Up Against The Wall
An Evening With My Two Darlings
Nuf Ced McGreevey
Friday Night Baseball
In and Out
Inside the Monster
A Ballpark Fan's Thoughts On Fenway
At The Fen
Let Fenway Rest
Up On The Roof
The Inner Sanctum
Recollections
(multiple authors)

Part Three: Extra Innings
Strat-o-Matic Recreation
City Series Results
Internet Gamecasts and Game Log