Red Sox Spring Training A Quarter Century Ago
Book excerpt from Under A Grapefruit Sun
It's March 1984, Winter Haven. The Boston Red Sox have just been hammered in a Grapefruit game.
Normally after a game like this, testy manager meets truculent press. The skipper gets surly, the media turns up the heat, and the exchange becomes two-way root canal. The manager doesn't feel like talking to guys who in tomorrow's papers will be calling for his head. The press doesn't relish peeling the skipper's skin one ribbon at a time.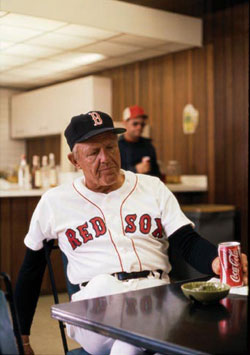 It's not like that today. This is spring training.
Red Sox manager Ralph Houk ambles into the pressroom, dubbed Locke-Ober South. Steward Tommy McCarthy, who looks like an extra in a Frank Capra film, brings The Iron Major his requisite can of Coke and a paper plate of Planters peanuts.
"Thanks, Tommy," Houk says.
The Iron Major rolls a few nuts in his leathery hands like loaded dice. With the tilt of his head, Houk tosses a few peanuts in his mouth, lights a cigar, and lets out a chuckle in an exhale of peppery blue smoke.
"Fellas, I thought that game would never end. I was ready to play it like it was raining. I told Evans, 'Swing and miss at the first three pitches you see. I want to get out of here.'"
Houk winks at us. The Major is kidding, of course. This guy aches to win, the marcas registradas ® brand that marks all competitors.
As I sit at Houk's table, I remind myself that this is the same Ralph Houk who has been known to peel paint off the walls when addressing smart-aleck writers. Except that Ralph is now in the mellow years with nothing to prove and confident in his abilities, a man tempered by time and also by the knowledge that he has a good ball club. He can afford to laugh at a Grapefruit stinker. Another day, another loss. Got any more peanuts, Tommy?
Houk playfully takes off his wristwatch.
"What was it Spahn said? Pitching is timing. Hitting is upsetting timing. Sh*t, if what we saw out there is timing, I'm throwing this away."
Another puff and exhale of smoke.
"We couldn't get the ball over the plate, we couldn't field, and we couldn't hit it. Other than that, things looked pretty good."
He laughs again and slides his watch across the table. It comes to rest next to the Coke can with a metallic clink. The Major rubs his wrist. The watchband has left a line of demarcation shades lighter than the rest of his skin. It's a relief when the manager is in a good mood after a lousy game.
"What'cha got, fellas?"
Fellas. There's something comforting and inclusive in the way Houk pronounces this word, as if by those two syllables he's admitting us into the coolest fraternity on campus. In his hushpuppy demeanor, the manager is giving cues as readily as a third- base coach flashing the steal sign. Houk is signaling us not to get our hair mussed over a meaningless loss. Keep your powder dry, fellas. The press conference ends.
To some extent, we all share the same spring fever, coaches, players, press, and fans. None of it will matter on Opening Day. This will be the year, and nowhere is that supposition more "certain" than in the spring. Pitchers can get bombed in a 14-2 game. Have another soda. Batters can slump. Bring on the Planters and light up a Macanudo. Houk is happy today.
- Excerpt courtesy of Rounder Books and author Dan Valenti
---
Under A Grapefruit Sun: Red Sox Spring Training A Quarter Century Ago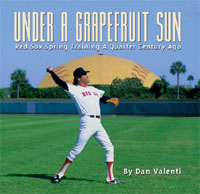 Rounder Books (2007)
144 pages, 152 photos

A book of untold stories and vintage photographs from Dan Valenti, who covered Red Sox spring training on freelance assignments during the early 1980s. In text and stunning period photographes, you'll get a glimpse of what life was like in Winter Haven during Spring Training. Red Sox greats such as Wade Boggs, Roger Clemens, Jim Rice, Carl Yastrzemski, and even Ted Williams (as a coach) are casually captured by Valenti's lens. The author also details his personal experiences covering the team and includes interviews with Boggs and Clemens, conducted before each became stars.
Shipping: USPS Media Mail
To purchase with all major credit cards

---
Red Sox Spring Training Photos
A selection from Under A Grapefruit Sun by Dan Valenti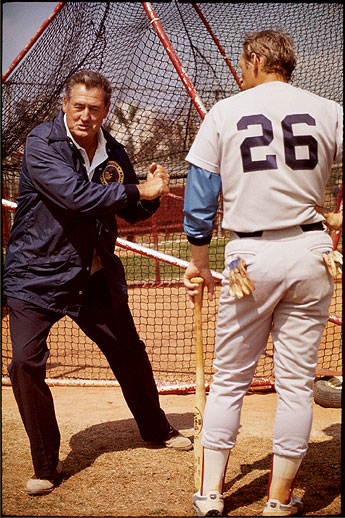 Ted Williams takes a hands-on approach with Joe Rudi in the batting cage
at the minor league complex, Chain O'Lakes Park, 1981.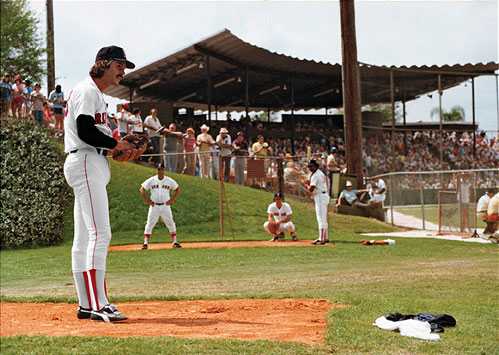 Dennis Eckersley gets ready to throw from the practice mound under the gaze
of Sox pitching coach Johnny Podres. Jim Rice is "at bat." Winter Haven, 1982.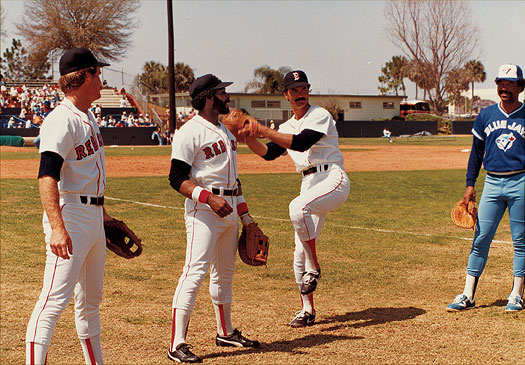 Wade Boggs, Mike Easler and Dwight Evans warm-up before a game
against the Blue Jays at Chain O'Lakes Park in 1982.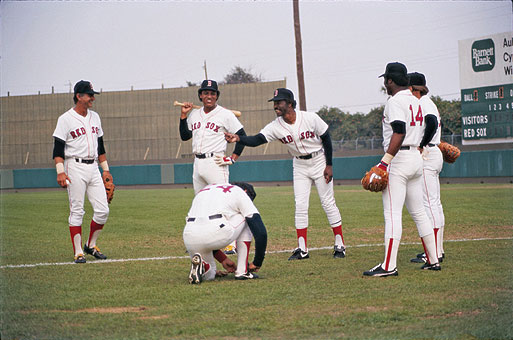 Enjoying a light moment, 1983. From left, Yaz, Tony Perez,
Dwight Evans (kneeling), Tommy Harper and Jim Rice.