Wakefield Baffles Looney Tunes Characters For Charity
Proceeds from new limited edition "Knuckled Under by Wakefield" animation artwork benefit New England children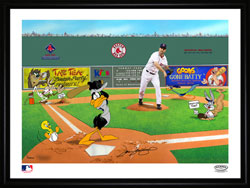 Longtime Red Sox pitcher and knuckleball master Tim Wakefield is depicted throwing one of his bafflers at a Fenway Park full of Looney Tunes characters in a limited edition lithograph from which proceeds benefit Wakefield's favorite charity, Pitching in for Kids.
Wakefield was the winner of the 2010 Roberto Clemente Award, baseball's "Man of the Year Award" which has been given annually since 1971 to a major leaguer that best exemplified commitment to community in addition to excelling on the field. Tim was the first Red Sox player to win the award and the release of this lithograph furthers his commitment to charitable causes.
"I'm particularly proud that proceeds from Knuckled Under by Wakefield will be going to a great cause through the Pitching in for Kids nonprofit organization, dedicated to improving the lives of needy children across the New England region," said Wakefield of the artwork that is available at KnuckledUnderbyWakefield.org.
Wakefield is the first major league pitcher to be featured in a tribute art piece by Warner Bros. artists, who have paired Looney Tunes characters with many of the all-time greats in sports, including Michael Jordan, Muhammad Ali, Wayne Gretzky, Derek Jeter and Drew Brees.
As for the presentation featuring the Red Sox's all-time leader in innings pitched, Tim Wakefield is seen throwing his "difficult-to-hit" pitch to Daffy Duck who "winds up" completely "Knuckled Under by Wakefield" while Tweety, Bugs Bunny, the Road Runner and Wile E. Coyote are all a part of the fun-filled action.
Limited to an edition size of 2,500, each lithograph is hand signed by Wakefield and comes with a Certificate of Authenticity. Priced at $345, each print is numbered and framed. The size of the print is 16" x 23" and the frame is 21" x 27.5". A limited edition (500 pieces) hand-painted cel can be had for $1,195. You can read about the production process at Making the Art for Knuckled Under by Wakefield.
For more information, or to purchase a print, visit KnuckledUnderbyWakefield.org.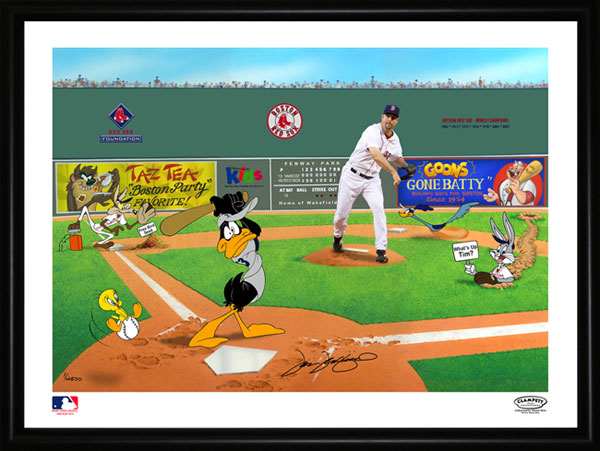 TM and © 2010 WBEI • TM/© MLBP 2010 • TM & © 2010 BFAI • All rights reserved.