Red Sox Legends
This fantastic book is a tribute to great Red Sox players of the team's past and brings these legends to life thanks to 58 rare images from the Boston Public Library and Red Sox Archives.
A partnership between the Boston Public Library and the Boston Red Sox, Red Sox Legends is based on one gallery of images currently on display at Fenway Park in Autograph Alley. This book and that display show Red Sox legends over the years.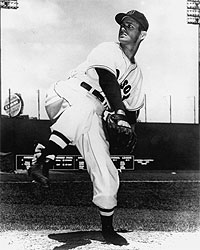 The book follows a simple format: a black and white photograph is on one page with a historical narrative or player interview opposite the image. The narrative or player quote provides plenty of insight into the Red Sox's rich history.
The images inside of Red Sox Legends span from Boston's first championship team in 1903 to 1990. Moments are captured from inside the ballpark and away from it. There are photos of individual players, small groups, and entire Red Sox teams. In many of these rare images Fenway Park serves as a backdrop.
Among the legends pictured are:
Babe Ruth, Smokey Joe Wood, Duffy Lewis, Cy Young, Joe Cronin, Jimmie Foxx, Lefty Grove, Ted Williams, Bobby Doerr, Dom DiMaggio, Johnny Pesky, Mel Parnell (pictured above), Harry Agganis, Dick Radatz, Carl Yastrzemski, Jim Lonborg, Tony Conigliaro, Carlton Fisk, Luis Tiant, Jim Rice, Bruce Hurst, Wade Boggs, Roger Clemens, Dwight Evans
The book is easy to flip through, as its 128 pages are about the size of a 4" x 6" photograph. The last four pages of the book are set aside for autographs, and the Red Sox encourage you to bring the book to Autograph Alley at Fenway Park, where a former Red Sox player, coach or personality signs autographs free of charge before the game.
The book's cover price is an inexpensive $9.99 and all proceeds will be split between the Red Sox Foundation, the official team charity, and the Boston Public Library.
Red Sox Legends is perfect for anyone who wants to learn about the great players and history of the team, and the vintage images are sure to be a hit with all generations of Red Sox fans.
Excerpts from Red Sox Legends
The following player photos and stories are courtesy of Arcadia Publishing
Red Sox Legends
128 pages, 58 rare images, under $10
BUY RED SOX LEGENDS AT AMAZON.COM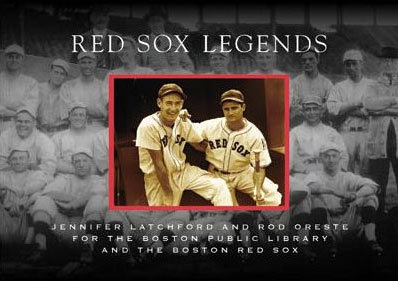 Authors: Jennifer Latchford (Boston Public Library) and Rod Oreste (Boston Red Sox)
Publisher: Arcadia Publishing (2007)