Working for the Red Sox: Fenway Park Peanut Vendor
Book excerpt from Fenway Lives
RSC note: Rob Barry has been a vendor at Fenway Park since 1981. This is a personal account of his experience, republished from the book Fenway Lives.
Rob Barry, peanut vendor
My father worked here for about 40 years. He was a vendor himself, then a vending supervisor. He also worked in the money room counting all the money after the game. He was a schoolteacher and a stockbroker and he got both myself and my two sisters work there as well.
My sisters both sell beer. Diana works more near first base, on the stand just before Canvas Alley. I think it's section 14. Betsy's more towards right field and the foul pole there.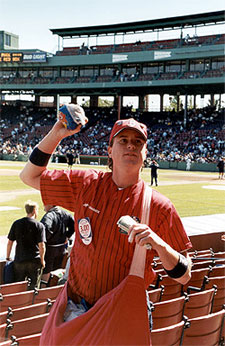 I started in 1981. I'm a program officer with the Department of Corrections. I work at a pre-release center doing administrative work, working directly for the superintendent and the deputy.
My father quit in '86 because there was a big hullabaloo about something I had done here. In the '86 World Series a friend and I worked here but we weren't exactly vending very hard. We were up on the roof watching the game. It was early in the game, I had sold two loads of hot dogs. I'd usually sell anywhere from 20 to 25 loads back then, so they knew I wasn't exactly working my hardest up there. But I didn't care. I was 18 years old and I wanted to watch the World Series.
My father wasn't even informed that I was fired. He quit in solidarity. He didn't need the job. I fought it through the union, got my job back and the rest is history. Local 501 or something, I don't know.
My first game, I remember they had me selling popcorn. I made $14.20. They have a rule in place; if you've been there five years, you get to choose what you want. I'd say hot dogs are really the big moneymaker but that's really grunt work. When it's full, the hot dog bin can be anywhere from 30 to 45 pounds. Not that the peanut sack's any better around your back, but it's easier to manage. There are 36 bags in a sack, 7 ounces each I think they are. I'd say a real good day would be eight to ten sacks.
I've been doing peanuts regularly about eight or nine years. The last two or three years, I've been strictly peanuts.
I used to throw ice creams before that and got to be pretty well known for throwing ice creams. When I started selling nuts, it was perfect. When it was HMS, the nuts were four ounces. It was almost the same as throwing a baseball, so that worked out fine. When Aramark came in, they switched to seven ounces. Those were heavier and the bags had too much air in them so they were tougher to throw. What I came up with, I tape a little tack to my finger and pop the air out of the bag and then I throw them. I've got a tack taped to my middle finger on my left hand, facing out. That's why I keep my money in my left hand so nobody touches that.
The most I ever made? Peanuts-wise, I made a hundred and ninety bucks. That was maybe 13 loads. I don't know why that was such a good day. I was fired up. I'm going to go for Yaz's record. That's 23 years, so I'm going to go for that anyway. I guess if I get married and have kids, then it becomes a problem.
You're going to run into some people who are jerks. I've actually had problems with a couple of fans, but never any fistfights or anything like that. There are a few people who are just jerks, you know. Like you'll get people, who'll say, "Get out of the way!" or "Move!" What am I supposed to be, invisible? Hey, it's part of the game, pal. If you want to have perfect views, watch it at home.
In '94 I threw a bag of nuts across the field and a friend of mine got a picture of it. I've had friends who own bars who've asked would I sign them and give them photos of it. They're hanging up in a few bars around Boston. I went down the first base side. My friend the immigration officer was back from St. Croix for a couple of weeks, and every game he was like, "Hey, Girly Arm!" and it would be a longer and longer throw.
The day before he left, I told him that I was going to throw one across the field to him. He went down the third base line and I went down the first base line. I made like a joke about it, "WHO NEEDS NUTS?" He was over the other side, screaming like a madman. The crowd was saying, "No way could you do that" and I said, "Watch this!" and I threw a bag across the field. The Seattle pitcher stepped off the mound because he saw this out of the corner of his eye. He was bull! The home plate umpire called time because of all the commotion. Security came running down at me. I kind of like tipped my hat. All the security people knew me, so they were like, "I'm not going to say anything."
The crowd went crazy and I just ran down the ramp down below - that was my last sale of the night. You can see it in the photo, too. It was the 6th inning, 2 and 1 count. You can see the Mariners pitcher, the people pointing up in the sky like it's a Superman or something. There's one on the photos up in the Baseball Tavern on Boylston Street.
I've been suspended a couple of times in the last couple of years because nobody's supposed to throw anything. Some kid hit a player's family member from the White Sox, hit her. There was a big thing then: "You guys can't throw anything. If you throw anything, you're fired." I got a couple of suspensions last year. I was a big baseball player in high school and college. I pitched in the Park League. I pitched for Mass Envelope for four or five years.
- Excerpt courtesy of Rounder Books and author Bill Nowlin
Fenway Lives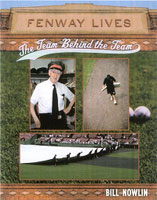 An in-depth look at what it takes to stage a Major League Baseball game at Boston's fabled Fenway Park. Drawing on over 200 interviews, this is the behind-the-scenes view of how a ballgame is presented - from the ticket takers to the post-game cleaning crew, with fascinating stories from scouts, trainers, grounds crew, batboys, peanut vendors and more.

250 pages; Rounder Books (Sept. 2004)
Shipping: USPS Media Mail
To purchase with all major credit cards