The Pesky Pole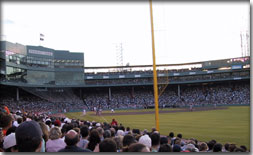 The story of how the right field foul pole acquired the name "Pesky Pole" is shrouded in mythology as much as fact.
The story that has been passed down over the years leads one to believe that former Red Sox infielder Johnny Pesky had quite a few home runs wrap around the pole, located only 302 feet from home plate. In fact, Pesky hit only 17 home runs in his entire 10-year career, and only six of those were at Fenway Park.
So how could the pole have been dubbed in his honor? All sources agree that the name "Pesky Pole" first spewed from the mouth of former Red Sox pitcher and broadcaster Mel Parnell.
In a story that was reprinted in the June 2, 2002 Boston Globe, Pesky retold the origins of how the pole came to bear his name:
"It came from Mel Parnell when he was broadcasting a game with Ken Coleman and Ned Martin one night. Someone hit a home run down the line and right around the pole, and Mel started talking about a game I hit one right around the pole to win it. The game was around '49 or '50, and I hit one late that won it for us. It might have even hit the pole. I had only 17 home runs in my career. I thought I hit eight right near the pole, but they researched it and said I hit only six. Six is big for me. I hit about two a year. But Mel came up with the name `Pesky Pole' in that broadcast years later, and it stuck. The one I remember most was Opening Day 1946 when I hit a two-run homer in the eighth right around the pole to win it for us."
The Red Sox official website seems to corroborate that statement:
Even though Pesky's Pole was dubbed that in the 1950s, the phrase really didn't become popular until the late 1980s or early 1990s. According to former Red Sox star Johnny Pesky, it was Sox pitcher Mel Parnell who coined the term, after Pesky hit a home run just beyond Fenway Park's right-field foul pole. That home run — one of only six homers Pesky ever hit at Fenway Park — won the game for Parnell.

But the truth of the matter doesn't exactly back up either Pesky or Parnell's memory. Of Johnny Pesky's six Fenway home runs, only one came in a game pitched by Mel Parnell, when on June 11, 1950 Pesky hit a two-run shot in the first inning. Boston lost that day when Tigers right fielder Vic Wertz hit a three-run homer in the fourteenth inning, and Parnell got a no-decision.

Regardless of the romantic tale behind its naming, the pole, and Pesky, have become a part of Red Sox legend and folklore. So much so that when plans for a new Fenway Park were introduced in 2001, the pole was replicated in right field.

Pesky once said of the pole, "They started calling it Pesky's Pole. I don't know how long they're going to keep doing that."

He got his answer on September 27, 2006, when the Red Sox officially renamed the right field foul pole in Pesky's honor in a pregame ceremony that fell on his 87th birthday. "I'm a little flattered. This is really nice," the guest of honor had to say about his Fenway legacy.

Just like the ballpark, Pesky has been a vital cog to the Red Sox organization, still on the payroll 60 years after his pre-World War II debut. He broke into the big leagues in Boston in 1942 and led the American League in hits each of his first three seasons, a feat that still has not been surpassed. His .313 average with Boston ranks seventh on the team's all-time list.

After his playing career ended in 1954, Pesky turned to coaching and was the manager of the Red Sox in 1963 and '64. After leaving to coach in the Pittsburgh organization, he returned to Boston in 1969 and has been with the club ever since, working in a variety of capacities and even returning to the helm for the final five games of the 1980 season when Don Zimmer was fired.

Now 88-years old, Pesky is a special assignment instructor. In 1995, he was part of the first class of inductees into the Red Sox Hall of Fame. But it wasn't until eleven years later that his place in Red Sox history was officially cemented, quite literally in right field.