2015 Red Sox Spring Training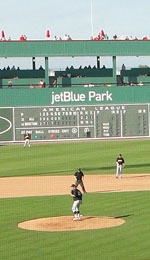 Boston's winter home is in Fort Myers, where JetBlue Park was unveiled in 2012. The ballpark is the centerpiece of the $77.9 million Fenway South complex, which displaced the team from City of Palms Park, the 7,800-person capacity stadium that opened in 1993. It lured the Red Sox away from Winter Haven, where they had trained from 1966-1992.

The capacity for JetBlue Park is about 11,000, which includes lawn seating and standing room only admission. By comparison, the largest crowd to ever attend a game at City of Palms Park was the 8,278 turnout on March 23, 2009. So record-breaking years at the turnstiles have ensued for the Red Sox during spring training since moving into their new home.



Reporting Dates & Practices

Pitchers and catchers report to Fort Myers on February 20, with their first practice scheduled for February 21. Position players arrive on the 24th and the first full team workout is one day later.

Until exhibition games begin, practices are held on the fields adjacent to JetBlue Park each morning from approximately 9 a.m. until 1 p.m. Fans can watch practice sessions for free and parking is available on site.



Tickets

Spring Training tickets went on sale Saturday, December 6 at 10 a.m. for all home games in Ft. Myers. Tickets are available at www.redsox.com or by calling 888-733-7696.
Just like in Boston, the Red Sox are a hot ticket in Fort Myers, where they sold out 109 straight Grapefruit League games during a span that covered the team's final eight seasons at City of Palms Park. So fans need to buy tickets shortly after they go on sale, as most games quickly sell out. When all seats are sold, fans can still purchase reserved standing room only tickets for either $10 or $15 by calling 888-733-7696 or 239-334-4700.
A limited amount of tickets are sold on the day of the game on a first-come, first-served basis. But you need to arrive very early to buy them and then be prepared to wait in line a while, as the tickets that become available are usually returns by players, staff and groups that trickle in close to game time. Even if you have to settle for a standing room ticket in advance, it's usually worth it to save yourself a lot of time standing in line at the box office. Unlike Fenway Park, standing room in Ft. Myers is not a bad option, as JetBlue Park's SRO areas (there are four) are quite roomy.
If you want actual seats to the sold out games in advance, the only real option is to choose a ticket reselling company like TicketsNow, where Red Sox spring training tickets are generally sold for $35 and up.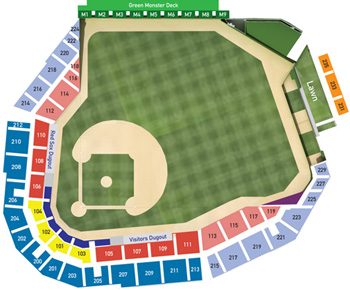 Face value ticket prices are:
Home Plate Dugout Box: $48
Green Monster: $37
Home Plate Box: $34
Field Box: $32
Right Field Box: $29
Left Field Box: $29
Grandstand: $29
Left Field Grandstand: $27
Right Field Grandstand: $27
Green Monster Deck: $27
Left Field Deck: $15
Reserved Bleachers: $10
Lawn: $5
Standing Room: $10 or $15

Note: Tickets are half-price for the annual exhibition games against Boston College and Northeastern.



Sign up to receive a free Red Sox Update Newsletter

News, injury reports, history, trivia and more.
Ballpark Address

JetBlue Park
11581 Daniels Parkway
Fort Myers, FL 33913
Directions

From I-75, take Exit 131 and go east on Daniels Parkway for a little over 2 miles. The ballpark will then be on your left. It's quite visible from the highway. The one notable thing near it is the airport, which you pass by shortly after exiting I-75.
Parking

Grass fields throughout the Fenway South complex will accommodate all comers. The cost to park is $10.



JetBlue Park Notes

Essentially, the ballpark is a scaled-down replica of Fenway Park. Its signature features are identical to the big league version in Boston: a 211-foot long Green Monster wall in left field, which is embedded with a manual scoreboard, the same playing field dimensions and the Williamsburg location of the bullpens.

Designed by Populous, the same architectural firm that drew up plans for City of Palms Park (they were known as HOK Sport then), with assistance from locally-based Parker/Mudgett/Smith and the Boston-area firm of D'Agostino Izzo Quirk.

Funded entirely by Lee County, of which Fort Myers is the county seat. The Red Sox's lease with the county is for an ironclad 30 years. The agreement between the team and county was announced on November 1, 2008. Official groundbreaking for the facility took place on March 4, 2011.

The Player Development Complex on the 106-acre site includes six practice fields. In the past, the Red Sox made do with a five field complex that was located 2½ miles from their stadium.

Is a little over 10 miles from Boston's former spring training home, City of Palms Park.

On the same day the Red Sox played their final game at City of Palms Park (March 29, 2011), JetBlue Airways acquired the naming rights to its replacement. The New York-based airline signed on to be the ballpark's title sponsor for eight years.

A complete guide to JetBlue Park can be found at Spring Training Connection.

The new Red Sox spring training stadium, as seen during a game in its inaugural season.