Boston's Best Deals for Sports Fans
by Christopher Klein, author of The Die-Hard Sports Fanís Guide to Boston
The "Best Sports City in America" has plenty of sporting opportunities to satisfy the appetites of the Hub's die-hard fans.
But Boston sports fans, like most Americans, are keeping a closer eye on their pocketbooks during the recession. With that in mind, here are seven low-cost options for Boston sports junkies looking to get their fix without breaking the bank:
Futures at Fenway. Tickets to Red Sox games are among the most expensive in baseball, but the Futures at Fenway doubleheader (on Saturday, August 8 in 2009) is a cheapskate's dream. Fans can watch two games at Fenway Park involving Boston's minor league affiliates for as little as $5. Fans can also indulge in Fenway's luxury seats for just $30. Concession are also discounted.

Try a minor league alternative to Fenway. Three of Boston's minor league affiliates -- the Lowell Spinners, Portland Sea Dogs, and Pawtucket Red Sox -- play within an easy drive of the Hub. Minor league ballparks offer a family-friendly atmosphere, and tickets and concessions are a fraction of Fenway prices. Brockton and Worcester are also home to minor league franchises. Another hardball option is to catch a Cape Cod League amateur game during the summer to capture the feel of the season and the sport. Admission is free, and picnicking is expected.

Sneak a peek at Brady's recovery. Training camp is the easiest and cheapest way to see the New England Patriots up close. Admission and parking is free, and the players are accessible.

Rediscover the "beautiful game." Drive down to Foxborough and watch the New England Revolution play the world's most popular sport. Tickets are as cheap as $20, and parking is free.

Have some fun with Boston's sports history. The Sports Museum at the TD Banknorth Garden is full of interactive exhibits and memorabilia dedicated to the region's sporting history. Adult admission is $6.

Engage in some horseplay. Suffolk Downs may be the best sports bargain in Boston. General parking is free, and admission for three hours of racing is free on weekdays and just $2 on Saturdays and holidays. Fans who place a winning wager may actually make money!

Try something new! While Boston's major sports are a grand draw, die-hards can be adventurous and check out additional spectator sports in the area, such as Australian Rules football, cricket, Gaelic sports, polo, rugby, and squash.
Bonus: these events are often free.
---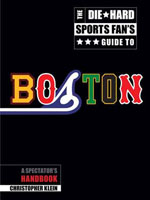 The Die-Hard Sports Fanís Guide to Boston

Christopher Klein's book is the ultimate resource to enjoying the sports that are played in Boston and the teams that play them. Tips, pictures and history abound over 269 pages of in-depth information, which includes plenty of prose about each venue in and around the Hub. Fans will also learn about some of the hidden gems of the Boston sports scene, from college and high school sports to the city's sports bars and landmarks.

269 pages, published in June 2009
Available for purchase for just $17.95 at Fenway Outlet
---