2004 Boston Red Sox World Series Champions Team Plaque
We waited 86 years for the Red Sox to win the World Series. Now you can remember the 2004 champions with the officially licensed Healy team plaque.
This 13" x 16" souvenir features a full color team picture of the 2004 Boston Red Sox on a walnut brown wood backed plaque. Also included on the laminated gold metal plate is a note about the Red Sox's historical comeback against the Yankees and scores from each of Boston's playoff games.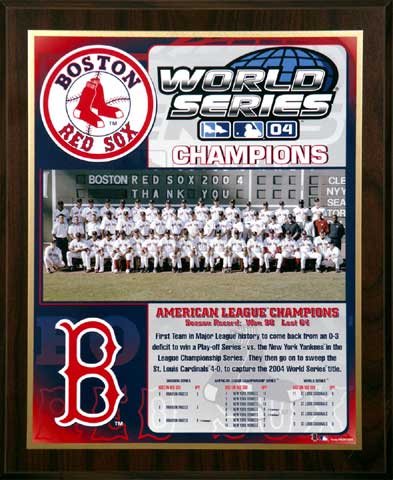 Only $59


Boston Red Sox 2004 World Series Champions
Team details written on the plaque
American League Champions
Season Record: Won 98 Lost 64
First team in Major League history to come back from an 0-3 deficit to win a Play-off Series vs. the New York Yankees in the League Championship Series. They then go on to sweep the St. Louis Cardinals 4-0, to capture the 2004 World Series title.
Scores from the Division Series, American League Championship Series and World Series



Other Red Sox Healy Plaques