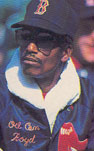 Dennis "Oil Can" Boyd
His nickname is legendary, as was his temper, and in 1986 baseball fans witnessed the full spectrum of emotions that made Dennis "Oil Can" Boyd one of the more colorful personalities of his generation. After being left of the All-Star team, Boyd threw a highly publicized tantrum that got him suspended from the team and landed him in the psychiatric ward of a hospital. It was also Boyd who was to start Game 7 of the World Series against the Mets, but rain prevented him from making that start, and manager John McNamara elected to pitch Bruce Hurst instead. Boyd cried when he learned of the decision.

So where's The Can now and what's he been up to? He's returned to his Mississippi hometown, where beer is called oil (hence the nickname), becoming an ambassador for the game of baseball. But since his exit from the major leagues in 1991, Boyd has never strayed from the game, although he has done so primarily outside of the glare of the media.

After leaving the Red Sox in 1989, The Can signed with the Montreal Expos, where he did a splendid job in 1990, and was on his way to a fine 1991 campaign when he was traded to Texas, where his year, and ultimately career, would wilt, and then fade into the summer sun.
In 1993 The Can resurfaced, grabbing headlines in a way only he knew how. In April, Boyd, through his lawyer, threatened to sue the Red Sox for not inviting him to spring training that year. The lawyer said in view of the Red Sox's mediocre pitching prospects for the coming season, he could find "no apparent baseball reason for the team's rejection of Boyd's overtures." Alas, Boyd would not make it back to the bigs, although he would soon give it one more try.
When the 1995 season threatened to open with replacement players there was The Can with the Sox. The White Sox, that is. Apparently fences still hadn't been mended with Boston, and mediocre pitching staff or not, Boyd was not going to replace a Red Sox replacement.
The decision to cross the picket lines cost Boyd his agent, George Kalafatis, who feared that he would be decertified by the players' union if his client became a replacement player. Speaking about The Can's decision, Kalafatis said, "if you know Dennis, Dennis is going to make up his own mind. He listened to me in the past, he's occasionally taken my advice, he's occasionally not taken my advice. This he's done on his own."
The 1995 bid to return to the majors was a brief pit stop on Boyd's 7-year journey through the independent league circuit. After pitching in Mexico and Puerto Rico, Boyd pitched for two seasons with the Sioux City Explorers of the Northern League. In 1994, Boyd was 4-1 with a 1.89 ERA before his season was stopped prematurely by a blood clot in his right shoulder.
Before the injury, Boyd helped make history on May 8, 1994, when the Colorado Silver Bullets became the first women's team to ever play a professional men's team. Boyd was the starting pitcher for the opposition, the independent Northern League All-Stars, as the Silver Bullets were soundly defeated 19-0.
In 1996 Boyd returned to the New England area, where he compiled a 10-0 record for the Bangor (Maine) Blue Ox of the Northeast League. In addition to earning league MVP honors for his pitching performance, Boyd also spent the season as the team's pitching coach. The following season, Boyd returned to Massachusetts, pitching for the Massachusetts Mad Dogs in Lynn.
Retiring from the independent leagues in 1998, Boyd returned to his hometown of Meridian, Mississippi and has since tried to bring a baseball team to Meridian that he can call his own.
In 1999 it appeared as if he would be successful when the Texas-Louisiana League announced plans to place an expansion franchise, the Queen City Bombers, in Meridian. But just like the near-miss opportunity to pitch in Game 7, Boyd's bid failed due to a lack of local sponsorship, personal funds and overall support. But Boyd has not given up on his pursuit of ownership. He has since bought a plot of land, which has been cleared and graded in preparation for a new ballpark.
Currently, the earliest Meridian could land a Texas-Louisiana League team is for the 2002 season. Whether or not Boyd lands the franchise, he still wants to build the ballpark, which would be used as a centerpiece of a baseball academy for kids, a place where The Can can teach the game he loves to those who haven't been as fortunate as he has. And if he does acquire a team, he plans to be the opening day pitcher for the Bombers. In the meantime, Boyd throws twice a week for a semi-pro team, with an assortment of pitches that now number near a dozen.
Although he has been mostly remembered for behavior that was eccentric on the field and erratic off of it, no one should ever doubt Boyd's true passion for the game. As he has proved since he left the majors, Oil Can would play for virtually nothing. Maybe the defining quote that should be attributed to him is, "I will continue to play baseball until I can't play it any longer. I want to be playing when I'm 50, if not professionally, for a semipro or local team."
If you remember the end of the movie Eight Men Out, D.B. Sweeney, who played Shoeless Joe Jackson, is spotted playing center field in the low-level minor leagues in Southern Georgia. Although he might not attain the legendary status of Shoeless Joe, wherever you find baseball there is still a chance you might catch a glimpse of The Can on the hill.
Dennis "Oil Can" Boyd - 1986 Stats
ERA
W
L
G
GS
CG
IP
H
BB
K
Regular Season
3.78
16
10
30
30
10
214.1
222
45
129
ALCS
4.61
1
1
2
2
0
13.2
17
3
8
World Series
7.71
0
1
1
1
0
7
9
1
3
Update
Dennis "Oil Can" Boyd pitched for the Brockton Rox, an independent minor league team in the Can-Am League, in 2005. His first start for the Rox was on May 30, 2005 and he threw 85 pitches over six innings against Worcester. "I can still compete, and I feel good about it," the Can said afterwards. He finished the season with a 4-5 record and a 3.83 ERA in 17 games. The 45-year-old Boyd had last pitched professionally in 1997.
In November of 2005 Boyd was indicted by a federal grand jury in Mississippi for allegedly making five phone calls in which he threatened a former girlfriend and her son. If found guilty of the charges, Boyd could receive a sentence of up to 25 years in prison. The case has not been settled and Oil Can won't pitch in 2006 as a result.