Fenway Park Replica
New!!
A handcrafted replica of Boston's Fenway Park. Available in two sizes -- with just 4,750 produced of each -- these sculptures are made from natural stone and capture all the details that make Fenway...Fenway!
Fenway Park Coin
A commemorative coin of Fenway Park that contains actual dirt from its infield.

Fenway Park Photo Mint
A framed piece featuring a photo montage of Fenway, two coins and infield dirt.

Boston Poker Playing Cards
Classic Red Sox Uniforms
Boston Red Sox Throwback Jerseys
A collection of authentic uniforms made by Mitchell & Ness that feature the classic jerseys worn by Red Sox greats like Carlton Fisk, Ted Williams and Carl Yastrzemski.


Red Sox Hats
Boston Red Sox Hats
Over 600 adjustable and fitted Red Sox hats to choose from at Lids.com.


Made From A Real Baseball
The Fenway Project
64 writers experience everything that goes on at Fenway Park during a game.


Shipping:
US Media Mail
Red Sox 2004 World Series DVD Set

Red Sox 2004 World Series Collector's Edition DVD Series

This 12 DVD set features the unedited, original FOX broadcasts (without commercials) of all ALCS games against the Yankees and World Series games against the Cardinals.

The packaging of each DVD has a full line and box score, plus plenty of facts about each game.
Ted Williams Classic Moments
Ted Williams Photos
Limited edition, framed photos of Teddy Ballgame, each limited to 1,941 pieces.
* Midsummer Classic (1941)
* US Marine (1944)
* Going Out With A Bang (1960)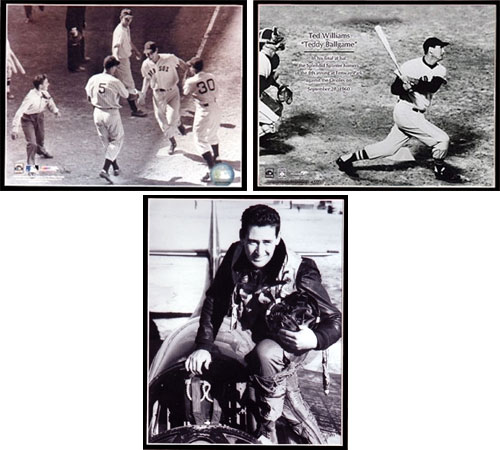 Fenway Park Print
Fenway Park
Limited edition fine art prints of Fenway Park signed and numbered by artist Kevin Shea.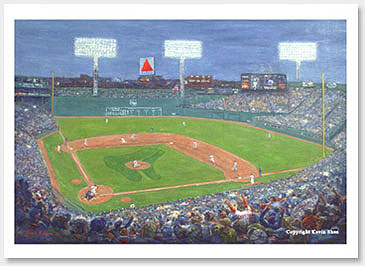 Yawkey Way Painting
Yawkey Way
Limited edition fine art giclée prints of Yawkey Way during the 2007 World Series. Signed and numbered by the artist, Kevin Shea.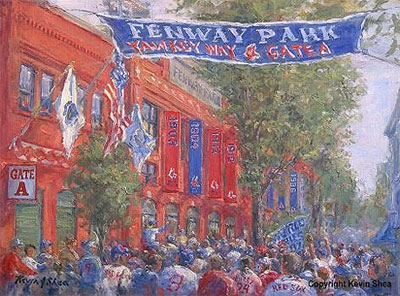 Boston Red Sox Timeline
22" x 28" collage poster
* Each picture includes a full historical commentary.

Vintage Fenway Flannel, 1941
Fenway Park Gold, 1946
Ted Williams, 1955
Splendid Fenway Finale, 1960
Triple Crown Clout, 1967
Classic Fenway Clout, 1975
Rocket's Red Glare, 1986

Purchase with all major credit cards at our CCNow affiliate