Working for the Red Sox: Crowd Control Supervisor
Book excerpt from Fenway Lives
RSC note: Mark Sweeney worked at Fenway Park in crowd control from 1976-1980. This is a personal account of his experience, republished from the book Fenway Lives.
Mark Sweeney, former crowd control supervisor at Fenway
Usually people want to hear the bad stories! I haven't told a good one for a long time! I think people would be surprised at just how good everybody was. The players were great. Jim Rice was unbelievable with kids.
I started the first home stand in '76. My father worked at Fenway during World War II. He was too young to go to war, and he worked on the ground crew for a couple of years. I worked until '80. It's been over twenty years since I left and I still put it on my resume. When people see that on there, that I worked at Fenway Park, I still get a call every resume I send out!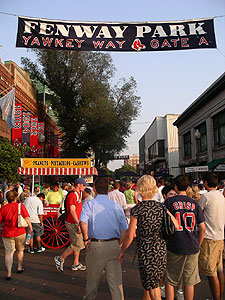 At the time, it was only ten bouncers…guys. I say "bouncers" because it's easy for people to understand what we were doing. We wore gray slacks and blue blazers. We were called "bluecoats." I was the fourth one hired, and the first supervisor. I guess you could call it an infant department - yes, and infantile!
Before us, they relied entirely on the Boston Police and private security from Ogden. They mostly just did stationary stuff, work the gate. There were 40 police a game. There were still police there; they just wouldn't go up into the stands. It was getting to the point where they had to get somebody to become proactive instead of reactive.
They were having trouble with the liquor license. Too many fights. They were still serving 22-ounce beers in the stands then! They'd take a 24-rack of 22s out and it was real beer, it wasn't light beer then. They'd sell it in a paper cup with a plastic top - like a Saran Wrap top. It was right after one of the judges in Boston had a fight break out right in front of him - about a week later that the state decided they couldn't have beer in the stands any more.
Instructions to us? They mainly told us take the drunks and throw them out. And don't get hurt. And the "don't get hurt" got thrown out pretty quick, too. They were awfully good to us, though. A lot of the kids went on to do pretty well. It was an easy job to sell the guys, to want to work.
Most of the trouble we had was with people who drank too much. The people who were smoking marijuana were so worried about getting arrested, you just walked up and said you have to leave, and they'd just walk out. Nobody was frisking them or trying to take anything off them or anything. They'd just walk out. The drunks were a pain, though.
I hired guys that were 6'8", 6'9". We got hurt sometimes - stitches, mostly, and bruises - from being punched. Face, arms…I've had a lot of stitches; I didn't get any at Fenway, but I had guys that worked for me that did. I saw someone pull a knife once - it was just a drunk - but only one time in five years. It was pretty rare.
You really wouldn't do much without a cop being there. And the cops were always scrounging for souvenirs, so it was easy to make friends with them and make sure that there was one around.
I was always there, from 9 AM to at least midnight. After the game, you'd start out in the bleachers. You'd toss everybody out - I mean walk everybody out - and then they would lock the gates out there first. Then they would just walk in and check all the bathrooms and everything on the way in. You'd check everything. You'd find people trying to hide out standing on the toilets inside the bathrooms; they did it all the time. When I was a kid, I'd snuck in myself. I still have Dick O'Connell's keys to the park. I haven't tried them, though.
We didn't have anybody who stayed after it was closed up. The cleaners used to lock up. We used to have a tape that would play, out at all the gates - a tape that had dog noises on it. The "dog" could go from one gate to another all night. It was one of those things where you could make a tape and have it just play over and over again on a loop. It would be silent for five minutes and then the dog would bark.
When the JFK [Navy ship] came into town we sent 500 bleacher tickets over to the boat, for the sailors. They had this kid - they got him stiff! They stripped him down and they ended up throwing him into one of the troughs, one of the urinals. He was passed out. They got a sheet for him, brought him down to the ground crew room, gave him a ground crew uniform. As he started to figure out what kind of trouble he was in, he was all upset because he couldn't get back on the JFK [by now, it was after curfew.]
It turned out that the captain of the JFK was still up in the press lounge. Tommy McCarthy used to pour drinks up in the press room. So we called Joe McDermott. McDermott went to the captain, and the captain brought the kid back in his car and the captain walked right onto the ship with no problem! The other sailors couldn't figure out how this kid got back on the ship, with no uniform - no clothes and no I.D.
I used to be up in the press room a lot, either working something or having a drink. One time were all standing around in the ticket office trying to figure out where to go to lunch and about 11 o'clock Haywood Sullivan called me and asked me to go up to his office. So I went up and he said, "OK, I want you to go across the street and get some sandwiches." I was like, "Oh, OK." I went back to McDermott's office and I said, "Hey! He wants me to run out for sandwiches. I'm a college graduate!" And McDermott says, "Yeah. And he's the owner of the team. And when he tells me to go for sandwiches, I go for them. So go get the damn sandwiches!"
I got the sandwiches across the street at the Batter's Box. When I came back, we ended up going into Mr. Yawkey's bar, which was in the executive offices. Haywood Sullivan was the bartender.
- Excerpt courtesy of Rounder Books and author Bill Nowlin
Fenway Lives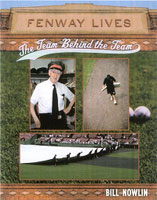 An in-depth look at what it takes to stage a Major League Baseball game at Boston's fabled Fenway Park. Drawing on over 200 interviews, this is the behind-the-scenes view of how a ballgame is presented - from the ticket takers to the post-game cleaning crew, with fascinating stories from scouts, trainers, grounds crew, batboys, peanut vendors and more.

250 pages; Rounder Books (Sept. 2004)
Shipping: USPS Media Mail
To purchase with all major credit cards