John Dopson - Q & A Session
April 2, 2007
BP note: John Dopson was a starting pitcher who spent five years (1989-1993) with Boston. He came to the Red Sox, along with Luis Rivera, when he was traded on December 8, 1988 from Montreal to Boston in exchange for Spike Owen and Dan Gakeler. He answered these questions via e-mail from his home in Bowie, MD.

Were you surprised that the Expos traded you to the Red Sox?
Yes, I was pretty surprised that they traded me. My win/loss record wasn't very good that year, but my stats were good. My ERA ranked in the top 20 of all pitchers in the National League that year.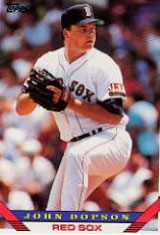 Did you feel more pressure pitching for the Red Sox than the Expos?
I felt more pressure pitching for the Red Sox initially primarily because of the media. Boston had 6-10 reporters at each game, whereas the Expos tended to only have 1-2.
What was it like to pitch in Fenway Park?
Fenway is different from all other ballparks because of the left field wall. The wall feels intimidating to pitchers. It's so tall, it tends to make left field feel much shorter.
On June 13, 1989 you tied a Major League record by committing four balks in a game against the Tigers. What happened?
That year, the umpires were enforcing balk rules. When you come to your set, you're supposed to pause. That game, there were quick runners on first and I was concentrating on getting the pitch to the plate quicker. After that inning, Wade Boggs dared me to get another balk, so I would own the major league record.
After a solid first year in Boston (12-8, 3.99 ERA), you pitched in only 5 games over the next two seasons (1990-91) due to elbow injuries. How did you get hurt?
I got hurt in Chicago in the beginning of the year. It was very cold that day [April 17, 1990]. I threw one pitch and felt a sharp pain in my elbow. I tried to throw another pitch and was only able to throw it 20 feet. I subsequently had Tommy John surgery, which involved a 14 month rehab.
The Red Sox won the AL East in 1990 but you missed most of the year recovering from elbow surgery. Did you still feel like a part of the team? How difficult was it for you mentally to not be able to pitch?
When you're on the DL, you never feel like you're part of the team. It is very difficult not to be able to contribute to your team's efforts.
You played for two managers in your five season with the Red Sox. Joe Morgan never had a losing season but was fired anyway and replaced with Butch Hobson, whose arrival coincided with your return to the Red Sox rotation in 1992. What effect, if any, did Morgan's firing have on the team?
Personally, I believe it's the team that sets the tone, so therefore I don't believe the firing had a negative impact. We were all professional baseball players and were paid to keep our focus on winning.
In 1993 you went to salary arbitration against the Red Sox and won, with arbitrator Anthony Sinicropi ruling in favor of your bid for a $750,000 salary over Boston's offer of $485,000. How difficult was the arbitration process and did the experience sour your relationship with the team?
The process is not that difficult from a player's perspective. The only difficult part is hearing the representatives from the team highlight negative aspects of your performance to bolster their case. We felt it was a fairly easy case as we were able to reference 20 other players with similar stats and records who were making substantially more than me.
You became a free agent after the 1993 season and signed with the Angels. Did you want to stay in Boston or were you ready to move on?
I liked the city of Boston and would have liked to stay. I was, however, coming off consecutive 7-11 seasons and felt the change may have been good for me. Of all the places I played, Boston was my favorite.
How did the fans treat you in Boston?
The Boston fans are diehard and supported me in good times and in bad. There is a stark contrast between fan bases across the Major Leagues. Boston fans are intelligent and understand the technical aspects of the game.
The media in Boston is notoriously ruthless. Did you ever have any problems with the local scribes?
I didn't have any personal problems with the media. Your mindset regarding the media is important. As a player, you can't control what they write. It takes some acclimation, but you have to develop thick skin. Most baseball players try to ignore the daily writings to maintain their sanity.
Who were your closest friends on the Red Sox?
I was closest with Joe Hesketh. We went out to dinner, played golf, etc.
What was the highlight of your time with the Red Sox?
The biggest highlight for me was pitching my first career complete game shutout against the Chicago White Sox on Patriots Day in Fenway Park [April 19, 1993].
Your Major League career ended because of a reoccurrence of elbow trouble after pitching one season for the Angels. How difficult was it for you to retire?
I had to have shoulder and elbow surgery again. I tried to make several comebacks from independent leagues in Tennessee and Seattle, but was forced to retire completely in 1999.
What have you been up to since your playing days ended?
I offer individual pitching instruction in the Maryland area. I currently instruct kids from ages 9 through 18. I help them develop their mechanics early in their pitching careers to avoid injuries and to be more effective. We take advantage of technology for the instruction such as frame by frame video analysis. You'd be surprised what you can't see with your eye that frame by frame video will reveal. All young pitchers should take advantage of this technology to form the correct mechanics. Our website for the instruction is www.propitchinglessons.com.
Last year, Indians pitcher Jake Westbrook became the first pitcher in 18 years to give up 15 hits and still get a victory. You were the previous pitcher to accomplish that feat, doing so on July 3, 1988. What's it like to still have your name pop up occasionally in newspapers or on TV broadcasts?
It's an infamous record to have, but still nice to see your name pop up in the media from time to time.
John Dopson - Career Red Sox Stats
Year
1989
1990
1991
1992
1993
W
12
0
0
7
7
L
8
0
0
11
11
ERA
3.99
2.04
18.00
4.08
4.97
G
29
4
1
25
34
GS
28
4
0
25
28
CG
2
0
0
0
1
IP
169.1
17.2
1
141.3
155.2
H
166
13
2
159
170
BB
69
9
1
38
59
K
95
9
0
55
89