Red Sox vs. Yankees: The Great Rivalry
Review by Siu Wai Stroshane

"Rivalry" implies competition between two parties, a bond forged of hatred and desire to dominate. With these two teams, it's more one-sided than Red Sox fans like to think.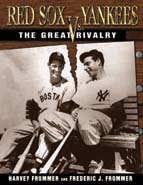 247 pages
8½ x 11 hardcover
$24.95

Boston fans suffer from an inferiority complex as deep as a Martian trench. They chant "Yankees Suck," even at a glorious Patriots victory at the Super Bowl in Texas.

Meanwhile, Yankee fans taunt Red Sox fans with "1918! 1918!," smug in their superior history of 29 World Series championships. There is talk of Babe Ruth's Curse, which doesn't seem to affect the players as much as the fans. In his song of the same name, Maine songwriter Joe Pickering Jr, beseeches the Babe to "give us a break", saying "it wasn't our fault...so please let us win."

With the agonies and ecstasies of the 2003 season fresh in our minds, and a new movie called "Still, We Believe" in the theaters allowing us to re-live those excruciating moments, this book recounts Game 7 of the pennant playoffs right up to Aaron Boone's feeble homer that robbed the Sox of yet another pennant.

"Red Sox vs. Yankees" is a richly illustrated survey of the two teams, with stats, timelines, oral narratives, game descriptions and vintage photographs of the great players of both teams.

There's Lou Gehrig giving his famous farewell speech, a relatively trim and speedy Babe, Bobby Doerr, Johnny Pesky, Casey Stengel, Luis Tiant, Allie Reynolds, Joe DiMaggio and a young Ted Williams. For laughs, you can see the baseball cards of Dwight Evans, Lou Piniella, Carl Yastrzemski, and Rich Gossage with their bad '70's hair.

There's a fascinating comparison of Yankee Stadium and Fenway Park that shows how "their styles, shapes, and locations" have influenced the supposed rivalry and the personalities and makeup of the teams.

Both parks are old, dating back to 1912 and 1923, respectively. Yankee players call their home "the most magical ballpark ever built." Unlike Fenway, where players are hired for their ability to hit moonshots over the Green Monster, Yankee Stadium was built to fit the dimensions of one George Herman Ruth.

The House that Babe Ruth built was just that, custom-designed for that big player's left-handed power shots down the right field line. The fence was a mere 295 feet from home, allowing Ruth an opportunity to hit a homer nearly every at-bat.

One slightly morbid feature of the old stadium was stone monuments to Ruth, Gehrig, and Huggins that spooked outfielders who had to chase down balls among them (Those monuments have since been walled off between the visitors' and Yankees' bullpens).

Over the years, Yankee Stadium has been renovated and improved, but has lost some of its historic character. Red Sox catcher Carlton Fisk once remarked, "Yankee Stadium was made for rabbits and giants," meaning players had to run like rabbits to catch balls, and hit like giants to get out of the infield.

Fenway Park, on the other hand, is a cramped, quirky "lyrical little bandbox" with narrow, uncomfortable seats, odd angles, the Pesky Pole, and the infamous Green Monster that looms only 310 feet from home plate, tempting hitters as a deceptively easy target.

Skilled outfielders like Yaz can play a carom off the Wall and fire the ball back in to hold hitters to a single at first, but to others, the Wall is a terror.

At Fenway, pennants have been won and lost, crowds have cheered and cried, and World Series hopes have been dashed. Visiting teams who come to Fenway face one of the noisiest, most raucous crowds in all of baseball, and the most hated opponents of all are the Yankees.

I give mixed reviews to the last part of the book, a compilation of oral narratives and opinions offered by "celebrities, politicians, players, coaches, managers, executives, fans, and media people."

Some are riveting, like the offering from former mayor Rudy Giuliani, whose grace and dignity gave New York courage following the terrible events of September 11th. Giuliani has a true fan's appreciation of the game and holds no grudges, calling the 2003 Championship Series "the most exciting I've ever been to or seen."

Other narratives are bloated dissertations or autobiographies of player wannabes. The players themselves are the most succinct. Jason Varitek of the Red Sox talks about enjoying the competition with Yankees. A Yankees fan cruelly compares the Red Sox playing to "the repeated sailing of the Titanic."

I can only say to fellow Red Sox fans, "Keep the faith. Maybe this is the year!"


Author Information:
Siu Wai Stroshane moved to New England with her husband in 1981. She remembers all too well the exciting season of 1986 that brought the Red Sox so agonizingly close to winning the World Series. She's still a fan, though. Last season's gutsy "Dirt Dogs" helped her keep the faith, and when her daughter met Carlton Fisk at a free neighborhood batting clinic, her whole family became eternally loyal. Siu Wai writes book reviews for several baseball websites and is pleased to be included on this one.



---
Publisher's Press Release
Red Sox vs. Yankees: The Great Rivalry
Authors: Harvey & Frederic Frommer

Red Sox vs. Yankees: The Great Rivalry covers nearly a century's worth of epic battles on and off the baseball field between these age-old rivals. Featuring exclusive interviews with former governors Mario Cuomo of New York and Michael Dukakis of Massachusetts, former press secretary Ari Fleischer, former New York City Mayor Rudy Giuliani, congressmen, reporters, broadcasters, and especially players, coaches, managers and front-office execs from the Red Sox and Yankees including Don Zimmer, Nomar Garciaparra, Derek Lowe, Jason and Jeremy Giambi, Lou Meroni, Dwight Evans, and Theo Epstein.

Two unique features of the book are a Rivalry Timeline and a "Talkin' Rivalry" section, a free-for-all in print among fans, journalists, and players who all have something to say. Other chapters include "Marker Moments," in-depth profiles of Joe DiMaggio and Ted Williams, Fenway Park and Yankee Stadium.

More than two years in the making, this coffee-table book contains more than 125 photos, some in color, some archival. A perfect book for Yankee fans, Red Sox fans, and all baseball fans.

Author Information:
Harvey Frommer is the author of 33 sports books, including Shoeless Joe and Ragtime Baseball and Rickey and Robinson: The Men Who Broke Baseball's Color Line.

Frederic J. Frommer is an Associated Press correspondent based in Washington, D.C. This is his second book.