Red Sox Tickets at Fenway Park
The Red Sox are proud to proclaim Fenway Park America's Most Beloved Ballpark, but it is also one of baseball's smallest, joining Pittsburgh's PNC Park and Miami's new Marlins Park as the only stadiums in the Majors with true capacities under 40,000.
Until the new Yankee Stadium opened, face value ticket prices for games in Boston were by far the highest in Major League Baseball, as supply couldn't keep up with demand even before the Sox won the World Series in 2004. Despite the high prices, the Red Sox have sold out every home game since May 15, 2003.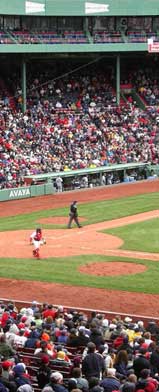 In recent years, the entire allotment of Red Sox tickets at Fenway Park have been sold out before the season started, but that doesn't automatically mean you can't get a seat to watch Boston take aim at another world championship in 2012. Here's what you need to know to score a seat or two:
Buying Red Sox Tickets the Week of A Game

Even though all games are sold out well in advance, getting tickets a few days before the game of your choice (except the Yankees) is very much a possibility. For example, if you want to go to a Saturday game try to buy tickets online at the Red Sox official website around Monday or Tuesday. Plenty of good single seats, plus some pairs, are available within a week of most games. One reason for this is that visiting teams are given a certain amount of tickets per MLB rules, but those teams rarely use all of their allotment and return the unused tickets to the home team shortly before the series is scheduled to begin. One of the best times to buy good seats at face value is within 24 hours of the first game of a series. This rule holds true for any ballpark.

For fans buying Red Sox tickets online the week of a game (within 7 days), your seats will be held for game-day pick up beginning 2 hours prior to game time. Tickets may be picked up at any ticket window at Gates A, B, or E. Remember to bring the credit card used for the purchase, your photo ID, and your confirmation number. The Red Sox sell their own tickets, bypassing the likes of Ticketmaster, and the team charges a convenience fee of $3.50 per ticket. Order processing, including delivery, is a flat fee of $7 no matter how many tickets or games you choose.
Game Day Ticket Sales at Fenway Park

On game days, a very limited number of tickets (usually 300) for that day's game are sold at Gate C on Lansdowne Street beginning two hours prior to game time. Tickets are sold on a first-come, first-served basis while supplies last. Fans may assemble in line beginning 5 hours prior to game time, but no earlier.

Fans purchasing tickets at Gate C will be required to enter the ballpark immediately after the purchase and there is a one ticket limit (per person/per day) for Game Day walk-up sales.
Buying Red Sox Tickets Through A Broker

In most instances, this amounts to legalized scalping since online ticket companies are allowed to sell Red Sox tickets well beyond face value. There are dozens of ticket brokers to choose from, but the most reputable are StubHub and TicketsNow, the two places where Red Sox tickets are usually bought and sold by regular fans.

StubHub is the place that many season ticket holders use when they have extra tickets to sell and these prices are generally less expensive than the traditional ticket brokers. Buying Red Sox tickets on StubHub is very convenient for most fans, since ticket pickup is available at their fulfillment center located just down the street from Fenway Park on Beacon Street @ Brookline Avenue, next door to the Buckminster Hotel. Fans can drop off or pick up tickets right up until the game starts, which is when you can usually find the best deals.

To save a buck or few, visit TicketsNow, as both they and StubHub often sell from the same (or similar) inventory, but TicketsNow's fees are a little less, so they often charge a little less for the same tickets.
Fenway Park Tours

If you decide that trying to see a game is too expensive or too much of a hassle, then taking a tour of Fenway Park is the next best thing.

Tours of Fenway Park give fans access to the press box and broadcast booths, the new Red Sox Hall of Fame Club, and Green Monster Seats. On some days, fans get the opportunity to walk along the warning track around the entire ballpark, leading to close-up encounters with the Green Monster, Pesky Pole and bullpens.

Tours leave hourly from the Souvenir Store on Yawkey Way seven days a week from 9 a.m. to 5 p.m. The cost is $16 for adults and $12 for children. For more information and group reservations, call the Fenway Park Tours Hotline at 617-226-6666.

More Info