Dwight Evans
Excerpt and picture from the book Red Sox Legends
Dwight Evans was a three-time all-star and eight-time Rawlings Gold Glove winner. He played with the Red Sox from 1972 through 1990. Evans is fondly remembered for his game-saving catch in the 11th inning of Game 6 of the 1975 World Series when he robbed Joe Morgan of a possible three-run home run.
This is his account of that catch.
I think all great plays are always anticipated, [players are] always envisioning in their mind before every pitch, that's why you see shortstops make great plays, infielders make great plays, you have to anticipate the ball being hit in a certain area.
I was actually, before that pitch [in the 11th inning of Game 6 of the 1975 World Series]...thinking if the ball is hit in the gap...I've got to go into the stands. Of course, I didn't end up doing that, but that's what went through my mind, and then when the ball was hit, I was actually prepared for it. It wasn't the best catch I ever made, but it was the most important catch I ever made.
Usually when a left-hander hits the ball to right field, the ball hooks a little toward the right field line, and when Joe Morgan hit this ball, I turned to my left and started running back at an angle, anticipating the ball hooking a little bit or curving toward the line.
Well, as I get back, the ball was not curving at all but staying straight. So I actually caught the ball behind me, it was behind my head.
Now, if you ever play catch with somebody, turn sideways and have them throw it on the other side of your head and try to catch it. You lose it for about three or four feet, and that's what happened in that play. So no one was happier than me to feel that ball go in my glove because I had lost it for that certain amount of time there.
- Excerpt courtesy of Arcadia Publishing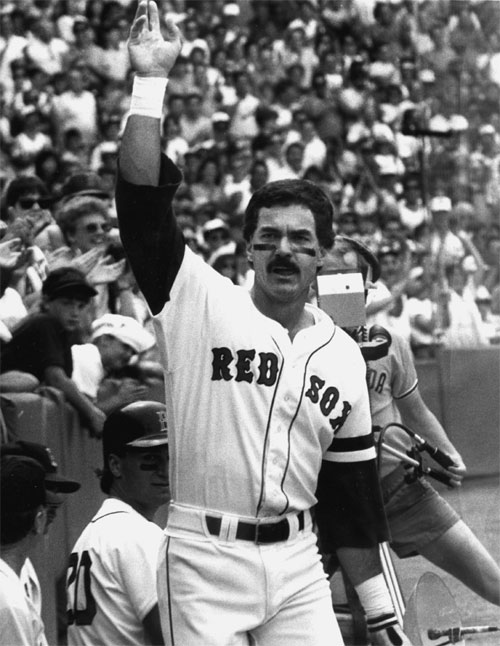 Dwight Evans
takes a curtain call during his final season as a Red Sox
Bill Belknap photograph, Boston Herald, from the Red Sox Archives, c. 1990
---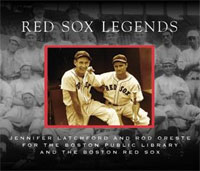 Arcadia Publishing (2007)
128 pages, 58 photos
Red Sox Legends

Through a combination of player interviews and historical narrative, Red Sox Legends is a tribute to the great players and moments in team history and each story is accompanied by a vintage photograph from the Boston Public Library's unparalleled collection of historical Red Sox images.

Tracing Boston's players and teams from 1903 to 1990 through a series of rare images, this book truly brings Red Sox history to life. [More information]

Buy Red Sox Legends at Amazon.com
---