Obstructed View: The Poles at Fenway Park

Pole Finder book provides information about those pesky poles at Fenway


Fenway Park is billed by the Red Sox as "America's Most Beloved Ballpark" and fans flock from near and far for the privilege of seeing a game in Major League Baseball's oldest venue.

Thanks to over $100 million in renovations spent by John Henry since he purchased the team, Fenway Park today is in pristine condition. Most fans have little to complain about, with the exception being those who find themselves sitting behind one of Fenway's infamous poles.

Fenway Park has a total of 26 poles, each evenly spaced around the ballpark from Grandstand sections 1 to 33. Each pole measures approximately 16 inches wide and is needed to support the ballpark's second level, which includes the press box and many of the premium seating sections.

Facts About the Poles at Fenway
How many: 26
How wide: 16"
Where: In Grandstand sections 1 through 33, although there are no pole obstructions in sections 19 & 21.
Seats with an obstructed view: About 3% of all seats in the Grandstands.

Although an architectural necessity due to the age of the ballpark, the poles obstruct views of home plate or the pitcher's mound for about 3% of all seats located in the Infield and Outfield Grandstand sections (only seats in Fenway's Grandstand are affected by poles).

In reality, the problem isn't so much that obstructed view seats exist, it's that fans don't know in advance which seats are obstructed by a pole.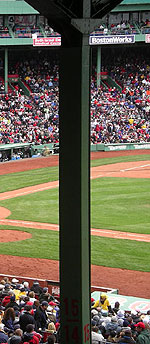 Finally, and fortunately, there is a solution to that problem thanks to Tim Shea, a lifelong Red Sox fan in Connecticut who authored Fenway! The Ultimate Fan's Guide (formerly called Fenway Pole Finder and Boston Baseball Fan Guide).
Fenway! rightfully bills itself as "the book you need before you buy tickets." With 49 photos and 71 diagrams, anyone who owns this book will be able to avoid buying seats in Fenway Park that are obstructed by poles.
The book includes one of a kind detailed diagrams that show exactly which seats have pole obstructions in each of the 33 grandstand sections. Shea catalogued every grandstand seat by row and seat number, and his diagrams will help you identify the seats that have a pole impeding your view of home plate, the pitcher's mound, or both.
The book is a great resource for anyone wanting to buy tickets at Fenway Park, and with a price tag of just $16 (sold at Fenway Outlet), Fenway! doesn't cost much more than the convenience fee that's tacked on by the Red Sox ticket office when you purchase tickets.
Although the bulk of Shea's 195-page book is dedicated to uncovering the seats with views blocked by poles, the Fan's Guide portion is a very useful addition. It contains information on:
The 17 different types of seating sections found at Fenway Park
How to get tickets from the Red Sox box office or Web site
How to get to Fenway via car or subway, and where to park
Taking a tour of Fenway Park
Where to eat and drink (near Fenway) before or after the game
Hotels and inns located close to Fenway
Concession options inside the ballpark

The Fan Guide really is full of helpful nuggets. For instance, those who love to drink Guinness, Harp and Smithwick's can find each of those Irish beers at Fenway Park, but only near section 19.

As you can probably tell, Fenway! The Ultimate Fan's Guide is especially useful for those making their first pilgrimage to Boston. Shea's book does a good job at covering the scene surrounding Fenway and is a phenomenal resource for fans wanting to avoid the pesky poles in the grandstand. Even more, the current edition of the book contains a chapter that lists by row number how far from the field seats in each section are.

Now more than ever, Fenway Park is a baseball paradise. Use this book to thoroughly enjoy your time spent there!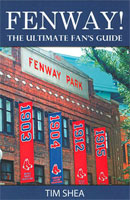 Fenway! The Ultimate Fan's Guide

This book will tell you everything you need to know about how to get tickets to a Red Sox game and how to enjoy your time at Fenway Park. Most importantly, it gives you detailed information on which seats in the Grandstand sections have views obstructed by poles. This makes Tim Shea's book an essential tool needed by every fan before buying tickets!

TBMC Press (July 2011)
195 pages, 71 diagrams, 49 photos
Available for purchase at Fenway Outlet