Pumpsie Green
Excerpt and picture from the book Red Sox Legends
In 1959, Elijah Jerry "Pumpsie" Green became the first black player to play for the Red Sox, who were the last team to integrate. Green made his groundbreaking debut on July 21 at Comiskey Park. He played his first game in Boston two weeks later.
The first time I played in Fenway Park was definitely my most memorable game. It was August 4 against Kansas City. I was leading off...I had seen the pitcher before in the minor leagues. My first at bat was very thrilling for me. I got a rousing ovation when I got up to the plate - a standing ovation. A lot of things went through my mind. I can remember thinking to myself, "I really don't want to strike out right now." I really wanted to hit the ball...I hit in through the hole in the infield, and it made me feel good.
I knew about Jackie Robinson. He was the one I had thought of mostly. He played minor-league [ball] in my hometown in the Pacific Coast League. They had a lot of black ballplayers in that league. So I knew a lot of them from the games. I like Jackie and learned a lot from him. I learned a lot from a lot of ballplayers. He got on the Dodgers, and I became a Dodger fan.
There were a bunch of good guys on the Red Sox. Ted Williams - he would talk to you and give you advice on any matter, even things not about baseball. The whole team was one unit when we walked out on the field. They were supportive of me whenever we played a game.
- Excerpt courtesy of Arcadia Publishing
Leslie Jones photograph, from the Leslie Jones Collection
of the Boston Public Library, August 30, 1959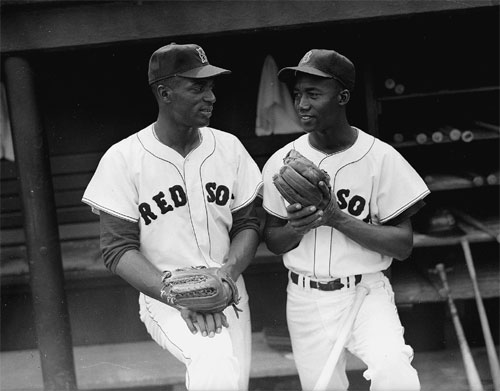 Pumpsie Green
was the first African American to play for the Red Sox.
He is shown here with
Earl Wilson
(left), who pitched a no-hitter in 1962,
the first by an African American in American League history.
---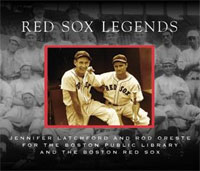 Arcadia Publishing (2007)
128 pages, 58 photos
Red Sox Legends

Through a combination of player interviews and historical narrative, Red Sox Legends is a tribute to the great players and moments in team history and each story is accompanied by a vintage photograph from the Boston Public Library's unparalleled collection of historical Red Sox images.

Tracing Boston's players and teams from 1903 to 1990 through a series of rare images, this book truly brings Red Sox history to life. [More information]

Buy Red Sox Legends at Amazon.com
---