The Red Seat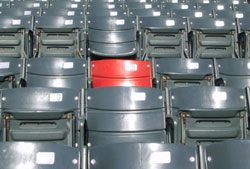 Section 42, Row 37, Seat 21
Fenway's famed red bleacher seat now retails for $23 per game.

A vivid reminder of the greatness Ted Williams bestowed upon the Red Sox franchise is the single red seat that stands out amongst its green counterparts in the right field bleachers.

On June 9, 1946, the Splendid Splinter connected off of Detroit's Fred Hutchinson for the longest home run ever hit into the Fenway bleachers.

56-year-old Joe Boucher, a construction engineer from Albany, New York, was in the seat when the ball, which traveled 502 feet, fell from the sky and deflected off his straw hat. But Boucher didn't end up with the ball, adding, "after it hit my head, I was no longer interested."

The seat, located in section 42, row 37, seat 21, was painted red to commemorate Williams' titanic blast, although at the time of the home run the bleachers were real bleachers and not individual seats.

Fifty-nine years later, Red Sox fans, well aware of the seat's history, can be seen flocking to the area after each home game to have their picture taken in or around the seat.