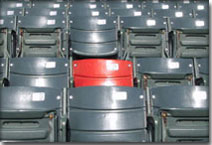 The Red Seat

The story behind the red seat in the right field bleachers at Fenway Park.
Red Sox Schedule


Why is Sweet Caroline played at Fenway Park?

The 1960's produced the Impossible Dream BoSox team and a classic Neil Diamond song. Fenway hasn't been the same since.
Red Sox Fans Love Their Dirty Water

Whenever Red Sox fans hear the Standells' ode to Boston at Fenway Park it has been a good day for the home team.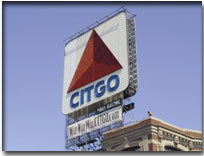 The CITGO Sign

Located beyond the Green Monster in left field, the famous CITGO sign illuminates the Boston night from Kenmore Square. See it in action!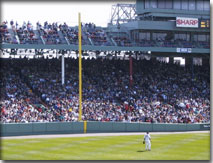 The Pesky Pole

One of Fenway's many fables is the pole that rests 302 feet down the right field line. Find out the origins of how the pole became known as Pesky's.

Alzheimer's Brings My Red Sox Memories Back

A Red Sox fan in Texas reaffirms his commitment to the team in honor of his Grandpa, who is suffering from Alzheimer's.

The Red Sox Hall of Fame

Cooperstown isn't the only place Red Sox greats are enshrined. The team's Hall was established in 1995 and so far 27 players and personnel have been inducted for their significance to the Boston organization.





Where were you when the Red Sox finally won a championship in your lifetime? 65 members of Red Sox Nation share their stories.

Places to Watch the Red Sox on the Road

69 listings across the U.S. of bars, restaurants, and fan clubs that cater to Red Sox Nation.

Where to watch the Sox in:
NY CA FL IL DC

Red Sox Tickets

The best ways to get tickets to see the Red Sox at Fenway Park in Boston.
John Dopson Interview

Former Red Sox pitcher answers questions about his 5-year career in Boston.
Obstructed View: The Poles at Fenway Park

Seeing a game in Fenway is a dream come true for most fans, unless they are stuck behind one of the ballpark's infamous poles.


Red Sox Legends Series

Dwight Evans

Dewey recalls his game-saving catch in the 1975 World Series.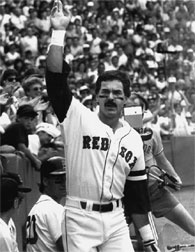 Tragedy and Tony C

Rico Petrocelli's first person account about the beaning that changed Tony Conigliaro's life.


Rob Barry tells what it's like to work at Fenway Park as a peanut vendor.
Fenway Park Crowd Control Supervisor

Mark Sweeney recalls his days as a Fenway Park crowd control supervisor.

Sign up to receive my
Red Sox Update

Red Sox History by Day

Interesting facts and events from random dates in Boston Red Sox history.


Got questions? Get answers on all things Red Sox - past, present, and future. Send 'em here
How the Red Sox got their name
The Red Sox mailing address

Would you believe Boston has won more games against the Detroit Tigers franchise than anyone else? Check out how the Red Sox have fared all-time against each team through 2006.
Year by Year Record

Your Father's Red Sox
Marty Nolan, the Boston writer, once said, "The Red Sox killed my father, and now they're coming after me." The current player profiles are Roy Johnson (1932-35), Skeeter Newsome (1941-45) and Jody Reed (1987-92).

Boston Fan Shirts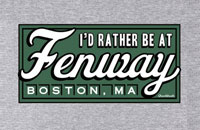 2013 World Series Trophy

Commemorative photo with player signatures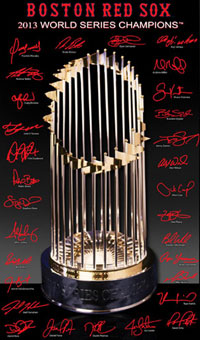 Papi Pops The Yanks

Limited edition lithograph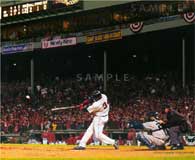 I'm helplessly and permanently a Red Sox fan. It was like first love...You never forget.
Art Historian Simon Schama

Past Red Sox Drafts
Taking a look back at the Red Sox' drafts from 1990-99, only 30 of the 460 (6.5%) players selected made it to Fenway.

First Visits to Fenway

Fans recall their first visit to Boston's fabled ballpark.


Recent Features and Stories
JetBlue Park
Information about 2015 Red Sox Spring Training and JetBlue Park in Fort Myers, Florida.
Wakefield Baffles Looney Tunes Characters For Charity
Warner Bros. artists created the "Knuckled Under by Wakefield" lithograph, which features Tim pitching to Daffy Duck, to benefit the knuckleballer's favorite charity, Pitching in for Kids.
7 Deals For The Budget-Minded Boston Sports Fan
From the Futures at Fenway doubleheader to watching the ponies at Suffolk Downs, there are plenty of inexpensive ways to enjoy the Best Sports City in America.
Red Sox Spring Training A Quarter Century Ago
This book excerpt from Under A Grapefruit Sun details a leisurely exchange between manager Ralph Houk and the press in 1984.
Rally Against Cancer on April 6
Support the Jimmy Fund by donating $5 and wearing Red Sox gear to work or school on the day of Boston's home opener.
Red Sox Legends - Carlton Fisk
Fisk recalls his magical homer in Game 6 of the 1975 World Series.
Red Sox Legends - Pumpsie Green
Green recalls his first game at Fenway Park.
Red Sox Mentoring Challenge
The Boston Red Sox have teamed up with Mass Mentoring Partnership to help children in Massachusetts find much-needed mentors.
Patriots Day and Fenway
The Red Sox observe this annual Massachusetts holiday by hosting the only morning game on the entire Major League Baseball schedule.
Jody Reed
Tracing the career of the former Red Sox infielder from his debut in 1987 to his present day involvement in baseball.
MasterCard Commercial
MasterCard collects from Red Sox fans what they promised they would give for a World Series victory. This is the "Proud new owner of 90% of New England" Comedy Central commercial featuring Denis Leary.
Red Sox Humor
We delight in taking jabs at the Evil Empire!
Red Sox on the Farm: LeLacheur Park in Lowell
The Red Sox's rookie level minor league team is located just 33 miles from Boston in Lowell, where the Spinners have sold out every game for six consecutive seasons.
Red Sox Victory Parade Pictures
Relive the thrill over 3 million fans experienced at Boston's championship "rolling rally" from a series of photographs taken during the Red Sox's celebration on October 30, 2004.
Boston's First Home: Huntington Avenue Grounds
A hundred years of Red Sox baseball begs the question: If Fenway Park is 93 years old, where did the team play before then?
The Boston Pilgrims Never Existed
Research by Bill Nowlin proves that the Red Sox were never known as the Pilgrims.
Red Sox in Cinema
The Red Sox have been frequently highlighted in top-rated TV Shows and top-grossing movies, including Good Will Hunting.
Sox On The Road Series
Road Trips! Following the Red Sox in 2001 took me to fields named Turner, Tropicana, and Jacobs, before finishing up at Yankee Stadium. In 2002 I paid my first visit to Comerica Park; ditto for 2003 and Kansas City.
Remembering The Players Of 1986: "Oil Can" Boyd
No one will ever forget The Can. Past Drafts: 1990 1991 1992 1993 1994 1995 1996 1997 1998 1999

Book/DVD Reviews and Releases
Red Sox Legends
Rare photographs of and interviews with the best players in Red Sox history, covering the years 1903-1990.
Day by Day with the Boston Red Sox
The history of the Red Sox, chronicled by day of the year.
New Book: '75: The Red Sox Team That Saved Baseball
Biographies of every player and coach from the 1975 Red Sox.
The Fenway Project Book
A behind the scenes account of everything that goes on at Fenway Park during a Red Sox game.
Red Sox Book Review: Why Not Us?
More than just stories about what victory in the 2004 World Series meant to the fans, Leigh Montville's new book captures the past agony and present ecstasy as it relates to Red Sox Nation.
Book Review: Those Damned Yankees
For people who hate the New York Yankees, this book details the not-so-great history of baseball's Evil Empire.
Book Release: Fenway Fiction
Short stories from Red Sox Nation.
Book Release: The Red Sox Fan Handbook
Everything you need to know to be a Boston Red Sox fan.
DVD Release: Reverse of the Curse of the Bambino
Denis Leary narrates the long road the Red Sox traveled to reverse the curse and capture the World Series title.
Book Release: Red Sox Heroes of Yesteryear
Interviews and career highlights from 40 of the greatest Red Sox players and managers in team history.
Book Release: A Tale of Two Cities
The 2004 Red Sox-Yankees Rivalry and the War for the Pennant....written from both the Boston and New York perspectives.
Book Release: Blood Feud
The Red Sox, the Yankees, and the Struggle of Good versus Evil....written by two lifelong Sox fans who dissect the Red Sox-Yankees rivalry.
Book Release: Our Red Sox
Rooting for the Red Sox is a family tradition. Robert Sullivan tells the story of his clan.
Book Review: Red Sox vs. Yankees: The Great Rivalry
Red Sox fan Siu Wai Stroshane reviews Harvey Frommer's latest baseball book, which is a chronicle of the fiercest rivalry in all of sports.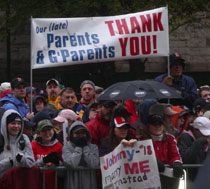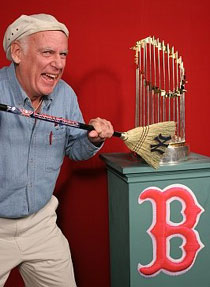 The Red Sox World Series trophy visits Sonny McLean's in Santa Monica, California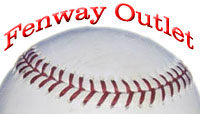 Fenway Outlet Red Sox Store --
Shop for Red Sox shirts, bracelets, posters, & Fenway Park items